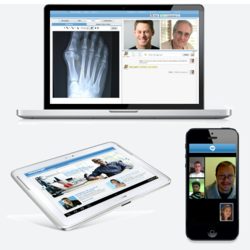 Saypage offers a way for people to charge for sharing their knowledge or advice online.
London, United Kingdom (PRWEB UK) 19 December 2012
London-based technology company, Saypage will empower millions of professionals, enthusiasts and entrepreneurs by providing a platform for billable communications across desktop, smartphone and tablet devices.
Saypage offers a way for people to charge for sharing their knowledge or advice online. Opening up new channels for health advisors, educators, skilled home workers, bloggers and thought leaders to communicate with their public, Saypage is a web and mobile communications platform for the modern professional.
Saypage sessions can be booked in advance or ad-hoc. They can be private, one-to-one conversations, or fully interactive live events allowing up to 100 video-enabled participants; a small online office or large auditorium depending on requirements.
In an age of austerity where second jobs are commonplace and the work/life balance is frequently off centre, Saypage presents itself as a means to avoid time-sapping journeys and being restricted to small local markets and instead reach a world of connected knowledge and advice seekers conveniently and profitably.
The Saypage white-labelling program enables organisations to easily create live, video-enabled consumer touch-points and new compelling video communication services. Early partners include tutorial companies looking to take their tuition services online and health practitioners including GPs and psychologists.
Co-Founder, Marek Zwiefka-Sibley says, "We've tried to mirror real-life as much as possible when creating Saypage. Whilst we're not looking to replace real-life interactions, we aim to compliment them by offering a convenient alternative." He adds, "Whilst looking to connect our experts with huge global audiences of customers, we also want to enable focussed, meaningful networks of like-minded people to collaborate around topics and events. Interest networks, as opposed to large social networks of loose contacts that don't necessarily share common interests or pursuits."
Saypage is a no-download solution that works in all web browsers. The site utilises a combination of javascript and HTML5 which has made it possible to port a substantial amount of code over to mobile, where the majority of the site can be accessed in mobile internet browsers. For voice and video calling on mobile devices however, installation of the free Saypage app is required.
Ben Weekes, head of technology and Saypage's other founder says, "Saypage is a cross-platform, multiparty video conferencing platform with optional call recording, appointments, time charging and real-time reporting. Companies and individuals can now rapidly make their services available online and globally within a secure and regulatory compliant environment, safe in the knowledge that data and fraud protection is handled on their behalf. There are no setup fees and the platform simply takes a small percentage of any paid communications which are transacted through the application."
Saypage mobile apps are being submitted to Apple's App Store and Google Play by the end of the year, and although the web site is still officially in beta, Saypage is welcoming early hosts and partners to sign up now.
About Saypage: Headquartered in London, UK, Saypage was founded in 2010 is set to officially launch in January 2013.
Please visit http://www.saypage.com/about.jsp for more information.
Please go to http://www.saypage.com/press.jsp for press material.