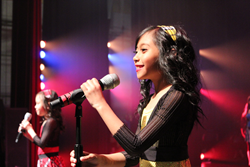 As a San Jose native I am thrilled to return to the South Bay to offer our unique brand of children's theater, and to introduce a new generation of kids and their families to the magic of theatre.
San Jose, California (PRWEB) September 29, 2014
The South Bay Children's Musical Theater (SBCMT) is dedicated to offering high quality performing arts experiences to kids ages 5-25 in San Jose, Santa Clara, Sunnyvale, Cupertino, Mountain View, Fremont, and surrounding South Bay communities.
Whether singing and dancing in a multimedia musical revue, appearing in an original film on the silver screen, or recording a song in a professional sound studio, SBCMT participants and families will enjoy a unique experience with big production value and a limited time commitment. Unlike most productions that offer a handful of parts with leading characters, our one of a kind shows are custom created for each cast, allowing us to give everyone opportunities for singing, speaking and dancing roles. Local South Bay kids will each get a chance to shine in our colorful and elaborate shows featured at the Saratoga Civic Theater. Our convenient 10-week program, with one rehearsal per week, makes participation in SBCMT productions fun and easy for busy South Bay families. Our San Jose rehearsal space, (Starting Arts Studio,) is located near the Santa Clara County Fair Grounds.
SBCMT's policy is to cast all kids who audition, and offers a variety of opportunities to first timers. Families love the easy commitment, and that the program does not require parents to sew costumes or put in mandatory hours building sets or working backstage.
"As a San Jose native I am thrilled to return to the South Bay to offer our unique brand of children's theater, and to introduce a new generation of kids and their families to the magic of theatre. We are excited to now begin offering shows in San Jose, in addition to San Francisco, Gilroy and Morgan Hill." – John Bisceglie, SBCMT Founder.
Upcoming Youth Theater Programs:
In November, South Bay Children's Musical Theater Artistic Director John Bisceglie and his team will teach the basics of musical theater in a fun and exciting free musical theater workshop for ages 5-25. The workshop covers audition tips, acting, improvisation, characterization, projection, dialects and more. Through interactive group activities such as theater games, self-esteem exercises, and singing & dancing, attendees will take a hands on approach by exploring the basic concepts of musical theater. The workshop will conclude with a free one hour showcase for family members from 6-7pm. No experience necessary.
In December, SBCMT will hold auditions for "Forever Broadway", a musical revue that features a spectacular selection of mini musicals! "Forever Broadway" features hit songs from Wicked, Matilda, Grease, Hairspray, A Chorus Line, Guys & Dolls, Annie, Oliver, Peter Pan, Legally Blonde and more. Sing and dance live on stage at the Saratoga Civic Theater, in a dazzling salute to Broadway's beloved classics and contemporary new shows. No experience required, and all who audition will be accepted. Ages 5- 25.
More about SBCMT:
Since 1985, GCMT/SBCMT Artistic Director and Founder, John Bisceglie has directed and choreographed hundreds of community, commercial, and professional productions featuring actors of all ages. For nine years, Bisceglie held the title of Artistic Director for San Jose Parks and Recreation's Young People's Theater, and served Gilroy's Community Services Department in the same capacity for over twenty years. His shows have been the recipient of numerous outstanding achievement awards from the Bay Area Theatre Critics Circle.
Bisceglie and his team have worked with thousands of children over the last 25 years and are excited to introduce new kids and their families to the magic of theatre. The positive transformation that takes place with young participants is always a rewarding experience. Numerous kids have literally grown up in John's productions, some appearing in ten to thirty shows over the years. Many have gone on to pursue careers in theater, while others have expressed how their involvement with SBCMT has helped shaped their lives in a positive way. We encourage you to check out our parent feedback page on the website to hear what our program has meant to so many South Bay cast members and their families.
SBCMT's creative team is passionate about theater and believe it to be as important to a child's upbringing as reading, writing, and arithmetic. Cast members are encouraged to naturally develop their imagination and self-esteem while building lifelong skills such as dedication, self-discipline, and cooperation. Our program inspires kids to activate their creative aspirations while instilling the motto that "everyone has talent and can succeed" regardless of age, experience and natural ability. We at SBCMT believe in empowering young talent and find it amazing what a little responsibility, teamwork and spotlight can do. You will always see a variety of talents and ages in our productions, from first timers to seasoned veterans. Ultimately, they always exceed our expectations and are an inspiration to all who see them perform.
For more information about SBCMT's people, auditions, shows and workshops, please visit: http://www.southbaychildrensmusicaltheater.com