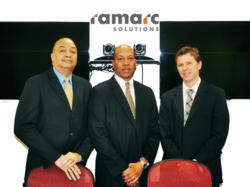 With RAMARC's strong past performance in the commercial market, we are looking to leverage that success in the federal market arena. - Michael Perch, Founder and Principal Consultant of Road Map Consulting
Washington, DC (PRWEB) May 08, 2013
RAMARC Solutions (RAMARC), an international IT Service Provider, eagerly accepted Road Map Consulting LLC's (RMC) tactical response for them to expand their business during the looming Sequestration era of government procurement. Michael Perch, Founder and Principal Consultant of RMC shared, "We view the expansion of our relationship with RAMARC Solutions as another opportunity to assist the company in penetrating the federal government market. With RAMARC's strong past performance in the commercial market, we are looking to leverage that success in the federal market arena."
RAMARC is certified by the US Small Business Administration, Dunn and Bradstreet, the Virginia Department of Minority Business Enterprise and also a GSA Schedule Holder and is participating in RMC's Strategic Business Planning, Marketing and Capture Management Program (SBP) to diversify its opportunities and find those best tailored for the IT solutions it offers.
"Road Map Consulting (RMC) with their service capabilities of Strategic Business Planning, along with their Marketing and Capture Management process has proven to be a solid fit and a step in the right direction for us," said President and Founder of RAMARC Solutions Craig S. Stowers, Jr. He continued stating, "RAMARC Solutions seeks to attain government opportunities and trust that Road Map Consulting's strong background and resources in the government sector will provide us with the support and business growth in the government sector we strongly aim to achieve."
RAMARC specializes in IT outsourcing for small and medium sized businesses and prides itself on understanding the needs of its customers. RAMARC's IT solutions include PC Support, Network Infrastructure design and implementation, Cloud computing, Telephony, Server support, IP and Network Security, System diagnosis, Wiring Management, Website Design, Data Backup/Recovery, and a host of other services.
RMC specifically designed the SBP Program to help their clients increase their most relevant business development opportunities within Federal Government Marketplace. During the SBP Program, RMC acts as "match-maker" connecting clients to the specific agencies and contracting opportunities that best match their products and services to raise their chances of winning contracts. RMC uses a combination of proprietary reports, customized marketing strategies and its staff's extensive experience in the Federal Government Marketplace to strategically re-position their clients for success.
The staff at Road Map Consulting looks forward to helping RAMARC solidify their business within the Federal Government Marketplace. Perch concluded, "Our job is to make RAMARC a force to be reckoned with in the federal contracting market for years to come and we look forward to continuing to work with Mr. Stowers and his team in building a strong portfolio of strategic teaming partners and clients."
More About Ramarc Solutions:
Ramarc Solutions is an Information Technology firm located in the Washington, DC metropolitan area which specializes in IT outsourcing for small and medium sized businesses including: IT Support, Network Support and other IT Consulting Services. RAMARC convers IT Support in the following areas: IT Support Washington, DC | IT Support Virginia | IT Support Maryland | IT Support Florida | IT Support New York | Computer Support Washington, DC | Computer Support Virginia| Computer Support Maryland| Computer Support Florida | Computer Support New York.
More About Road Map Consulting LLC:
Michael Perch is the Principal Consultant at Road Map Consulting, LLC. (RMC). RMC provides consultation on federal and state government contracting, financial management, project management, proposal writing and business coaching. Based in the Washington, D.C. Metro area, the firm delivers winning strategies for every stage of marketing to the government by helping business owners secure federal designations and obtain contract vehicles. With an experienced staff boasting over 75 years of experience, the company has maintained a 100% approval rate for 8(a) applications and GSA proposals submissions.
For more information on the services offered by Road Map Consulting LLC please visit http://www.roadmapc.com. For more information on receiving one free hour of consultation please call (703) 286-5426.
For more information on Ramarc Solutions' core capabilities please visit http://www.ramarcsolutions.com.