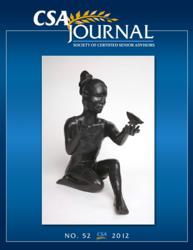 Virtually no one will be left unaffected professionally or personally by a shortage of skilled LTC workers.
Denver, CO (PRWEB) September 06, 2012
With high unemployment numbers it seems strange to speak about a potential shortage of workers. But the number of older Americans is growing rapidly as people live longer, and experts are concerned that there will not be enough skilled health-care workers to provide long-term care(LTC) for the Baby Boom generation. In a special report, "Who's Going to Take Care of Me? Our Impending LTC Labor Crisis" published in the CSA Journal, Lisa A. Rill, Ph.D, a research associate at the Claude Pepper Center at Florida State University, explains what is currently being done to avert the crisis.
A consensus is growing that the LTC system will not be able to meet the needs of our rapidly aging society. The reasons for the impending crisis are clear. The government estimates that the need for LTC will increase from 15 million in 2000 to 27 million in 2050 with Baby Boomers entering retirement. Due to declining fertility rates the size of the overall workforce relative to the population will be smaller with fewer adult children to care for aging parents. The LTC industry would need to grow at a rate of at least 2 percent each year just to keep up. It is currently growing at a rate of only 0.3 percent per year.
Developing a sizable and quality LTC workforce and providing high quality of care for our aging adult population will require several changes. Currently, the workforce is already under strain, with inadequate training, low wages and high turnover rates. "Virtually no one will be left unaffected professionally or personally by a shortage of skilled LTC workers," says Dr. Rill. "Part of the challenge in changing the LTC labor market is the significant influence of the government as the majority of industry revenues. These solutions require public and private players to work together."
In the report, Dr. Rill provides an update on the current status and changes in the LTC industry since a landmark report from the Institute of Medicine (IOM) was issued in 2008. The IOM report, Retooling for an Aging America: Building the Health Care Workforce, suggests a three-prong approach to preventing and reducing the LTC labor shortage:
1. Enhance geriatric competence:
Dr. Rill reports that progress has been made in educating professionals in the health-care field. Minimum competencies in geriatrics have been added to both undergraduate and graduate studies in the healthcare field and nursing homes are being used for clinical training for healthcare professionals. Medical schools and residency programs are required to create individualized clinics and courses in geriatrics to measure a professional's competencies. Nursing programs have also improved geriatric competency at all levels. The Federal and state-supported training for direct-care workers still lag behind and need improvement as part of a national solution. There has also been some change in some Medicaid-managed LTC programs that better emphasize how the care recipient and their informal caregivers are integrated in the process.
2. Increase recruitment and retention:
Nonprofits and the government are delivering funding and various new and expanded programs to support individuals in becoming geriatric care specialists and to improve employment conditions for direct-care workers. But Dr. Rill says that there is a greater need for workers than current efforts have been able to fulfill and collaboration among the government and other public and private sectors is essential in order to fill the gaps.
3. Improve models of care:
Many innovative models of care have been put into practice, but due to the diversity of the population, no single model of care is sufficient. Nursing homes and other LTC care providers have also instituted initiatives to improve organizational culture while other models of care have been implemented to help postpone nursing home placement.
According to Rill, "Although certain initiatives have been put into place to avoid a critical shortage in qualified professional LTC workers of all types, the challenge for the 21st century workforce continues." Government, other public and private sectors, and the general public must address the challenges if the shortage of skilled LTC health-care workers is to be avoided.
About Society of Certified Senior Advisors®:
The CSA Journal is the flagship publication of the Society of Certified Senior Advisors (SCSA). SCSA educates and certifies professionals to work more effectively with their senior clients. As the leading provider of certification for professionals serving seniors, SCSA's Certified Senior Advisor (CSA)® credential requires CSAs to uphold the highest ethical standards for the benefit and protection of the health and welfare of seniors. Accredited by the National Commission for Certifying Agencies, the CSA credential is the gold standard for professionals in all areas who work with the senior population. Through a comprehensive educational program, SCSA helps professionals understand the key health, social and financial issues that are important to the majority of seniors. For more information about SCSA, the CSA credential, and SCSA's education program, visit Society of Certified Senior Advisors