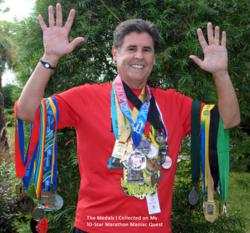 Why am I doing this? To drive people to learn CPR – it is what saved my life. To inspire other cardiac patients to maximize their quality of life and to live for the present. Don't leave things hanging. If someone is important to you - tell them today!
Sarasota, FL (PRWEB) May 08, 2012
When Sarasota, FL runner Greg Goebel crosses the finish line May 13th at the 2012 Delaware Marathon in Wilmington, DE he will join a group of less than 700 people to have completed a full marathon (26.2) miles in all 50 U.S. states, and the District of Columbia. What makes Goebel's accomplishment even more noteworthy is that he may be the only one to ever accomplish the feat after suffering a Sudden Cardiac Arrest while running a marathon.
The publisher and consultant suffered his SCA in January 2011 at the Zoom! Yah! Yah! Indoor Marathon in Northfield, MN. His life was saved only by the quick action of fellow runner, Dr. Bob Aby, and spectator Heather Ann Holley who both rushed to Goebel and began CPR. He was lifeflighted to Abbott Northwestern Hospital where he was placed in a medically induced coma while undergoing their cardiac Cool-It protocol to minimize brain injury.
Goebel commented, "I had no idea I had died until I woke up four days later – there was no warning, no pain – either before or after – it just quit beating. It is all rather surreal. The ironic thing is that I ran 30 full marathons in 2010 and had just passed my annual physical less than two week prior to it occurring."
Upon awakening, one of his first questions was if would still be able to run. There was good news and bad news. The good news had been no heart attack, therefore no damage to the muscle. The bad news was there was no identifiable cause. Doctors therefore recommended an implantable cardioverter-defibrillator (ICD), and following surgery, cleared him to resume running about three weeks later.
After recovering from his SCA, Goebel completed his first half marathon in mid-March 2011, then returned to the marathon circuit May 1st in Providence, RI, completing the 1st of the 17 full marathons and 8 half marathons he has completed since his event. "Providence was a really emotional experience. I had my wife with me, who I had put through hell while I was in the coma, plus running friends from all over the country. Two ran every step of the way with me and I had my wife and a throng of runners waiting for me to cheer me in at the finish."
When asked why he continues to run marathons after he had clinically died in one, Goebel said, "I certainly do not have a death wish. I run responsibly – I have slowed down. He quips that his name and the word "fast" had never been used in the same sentence prior to the event, but now his focus is even less so on time.
"If it were ever to occur again, my defibrillator is my insurance policy, and I am confident it will do its job. I refuse to live in fear. Do I think about it when I am running? Sure I do, nearly every step. But my doctors have cleared me; I am on no medications nor restrictions. I run according to my Polar heart rate monitor. I have set a maximum heart rate for myself that I do my best to not exceed. I always used a heart rate monitor before, but never really with a hard focus or purpose. Now, my eyes seem glued to it, as I check it at least 300 times per race."
He went on to state, "People now often tell me I am an inspiration. At first I was rather uncomfortable and embarrassed by it, but not many people are given a second chance at life like I was. Now I hope to inspire people three ways with it. First, I am now a big CPR advocate. I feel that everyone should learn it and be confident to perform it. CPR is what saved my life. Every second counts. You sure want to be ready should the need present itself. "
"The second thing I hope to inspire, Goebel continued, "Is for other cardiac patients to believe that they may continue to enjoy quality of life – if they were an active person before, there is every reason to believe they still can be, and if they weren't active before, to strive to become so now."
"Finally, I hope to inspire everyone to live for the present. Don't leave important things hanging. When was the last time you told someone important in your life how much he or she really meant to you? Do it today!"
When asked of his future running goals, he indicated they were less clear. With Delaware being his 64th marathon, he would like to one day hit #100, but is certainly not on a timeline. His goal now is to just continue to enjoy endurance running, and continue his involvement of the Marathon of Sarasota, which he the director of - but he pointed out, "of course there are seven continents..."