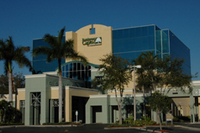 It's a win-win-win for us, for Cambridge and especially for our combined clients.
Fort Myers, FL (PRWEB) October 25, 2008
Fort Myers-based Surgery Consultants of America/Serbin Surgery Center Billing (SCA & SCB) and Dallas-based Cambridge Healthcare Development Corp. (Cambridge) today announced a partnership agreement which will expand the scope of services offered to their health system, physician and hospital clients. By joining forces, these firms will provide a full range of services including healthcare real estate consulting, project feasibility, development and management of short-stay hospitals, ambulatory surgery center (ASC) and medical office buildings, and ASC and medical billing services.
"By joining forces with Cambridge, we are able to provide our clients with even greater facility development expertise and the financing option of third-party real estate ownership, in addition to the development, management and billing capability we already provide." says Caryl Serbin, President and Founder of both SCA and SCB, "It's a win-win-win for us, for Cambridge and especially for our combined clients."
SCA, was founded in 1999 and is a respected leader in the development and management of multi-specialty ASCs. Its sister company, SCB, was one of the first companies to provide billing services for the ASC industry. Together, SCA and SCB have 17 management and billing contracts in 10 states: Florida, Texas, South Carolina, North Carolina, Kentucky, New Jersey, Michigan, Wisconsin, Connecticut and Tennessee. The companies' founder, Caryl Serbin, is a recognized expert and frequent speaker on the topics of ASC development and best billing and management practices.
David C. Ashworth, Cambridge President, said, "We are delighted to join forces with SCA/SCB's respected leadership and staff. Their business model, client profile, geographic coverage and superb reputation are all very complementary with those of Cambridge. Our combined services will allow us to bring even greater value to health systems, hospitals and physicians across the United States. This new partnership is a direct result of listening to our clients' comments about their future needs to improve clinical quality, caregiver and care receiver satisfaction and operating and financial performance."
Cambridge is a prominent national healthcare real estate firm with a 21 year history of developing, owning and managing facilities in association with large health systems, physicians and hospitals. It was founded by Chairman and CEO Jean-Claude Saada in 1987 and presently owns 17 facilities, representing more than 1.3 million square feet in Texas, California, New York, Louisiana, Arkansas, and Missouri (including projects in development) and has 1.6 million square feet in its development pipeline.
Together, these firms will provide a full spectrum of services for medical office buildings, ASCs and short-stay hospitals including:

ASC, real estate, hospital operations project feasibility and development
Project development
Operational development
Partnership syndication
Design and construction oversight
Facility ownership
Portfolio monetization
Managed care contracting
Coding and billing
Operations management
Property management
To learn more about SCA, please visit http://www.surgecon.com.
Information about SCB can be found at http://ascbilling.com.
For information about Cambridge visit their website at http://www.cambridgeinc.com.
Contact:
Caryl Serbin
President, Surgery Consultants of America and Serbin Surgery Center Billing
12670 Creekside Lane, Suite 401
Fort Myers, FL 33919
1-888-453-1144
cas@surgecon.com
David Ashworth, FACHE
President, Cambridge Healthcare Development Corp.
dashworth@cambridgeinc.com
###