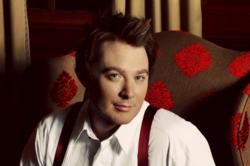 Stamford, CT (PRWEB) November 09, 2012
Stamford Center for the Arts continues its stellar 2012-2013 Season celebrating the 85th Anniversary of The Palace Theatre with Clay Aiken: Joyful Noise Tour 2012 on Thursday, December 6, 2012 at 8:00 PM. Tickets are on sale now at http://www.SCAlive.org. The 2012-2013 season is made possible through the generosity of SCA's Season Sponsors Seaboard Properties, Inc. and The Whittingham Family.
Since coming to national attention on the second season of American Idol in 2003, Clay Aiken has evolved into a versatile and beloved popular entertainer. He has released five well-received albums, selling over 6 million units as of 2011. In October 2003, he launched his first solo album Measure of a Man. The record sold 3 million copies and debuted at number one on the Billboard 200. With 613,000 copies sold in the first week, it was the highest selling first album for a solo artist in ten years, going double-platinum and netting Aiken an American Music Award.
In 2004, Aiken released Merry Christmas with Love, the fastest selling Christmas album in Nielsen Soundscan history. He followed that success with A Thousand Different Ways (2006), All is Well (2006), and On My Way Here (2008). His 5th studio album, Tried and True, was released in 2010, receiving positive reviews from critics across the board. Notably, Aiken earned the distinction of being only the eighth artist to ever have his first four albums debut in the Billboard Top 5.
Aiken also penned a best-selling memoir in 2004. Readers and critics alike embraced his style and his message in Learning to Sing: Hearing the Music in Your Life. The book was an instant New York Times bestseller, holding the prestigious spot for seven weeks.
In 2012, Aiken was runner-up to Arsenio Hall on the 5th season of NBC's Celebrity Apprentice to raise funds and awareness for the National Inclusion Project (NIP). Beating the likes of Debbie Gibson, Aubrey O'Day and Lisa Lampanelli, he became an audience favorite, raising over $350,000 for NIP.
Tickets for Clay Aiken: Joyful Noise Tour 2012 on Thursday, December 6, 2012 at 8:00 PM cost $58, $48, & $40 and are on sale now at http://www.SCAlive.org, charge by phone with major credit cards by calling the SCA Box Office at 203-325-4466 or in person at the Palace Theatre Box Office in downtown Stamford, CT. The box office is open Monday-Friday from 10am to 6pm.
For additional information visit the SCA website at http://www.SCAlive.org or call 203-325-4466.
About the Stamford Center for the Arts:
The vision of the Stamford Center for the Arts is to be the regional arts center for exciting entertainment that enhances and enriches the cultural, educational, economic, and social life of the community. The SCA strives to achieve this vision by demonstrating integrity in all work and relationships, providing service and quality in all activities, fostering and promoting diversity of thought, ideas and culture, providing stewardship for the Stamford Arts community, emphasizing outreach in our community, and offering creativity in all endeavors. Major funding is provided by the Department of Economic & Community Development.
# # #
For more information please contact:
Elissa Getto, Executive Director – 203-358-2305 | egetto(at)scalive(dot)org
Daniel O. Sierra, Director of Marketing – 203-517-3420 | dsierra(at)scalive(dot)org