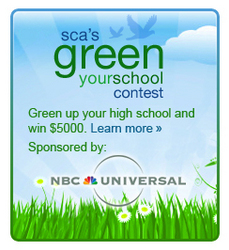 The www.thesca.org/green-your-school ['Green Your School'] contest provides a unique opportunity for students and teachers to work together to make greener choices that will positively affect the environment and their community
Charlestown, NH (Vocus) September 17, 2009
It was no joke on April Fool's Day when the Student Conservation Association (SCA) and the NBC Universal Foundation announced the launch of a national "Green Your School" contest. Since then, high school students from across the country have been submitting their best green-related projects in hopes of winning the $5,000 grand prize, or one of two runner-up prizes of $2,500.
The contest, which ends on October 9, seeks to engage students in conservation projects that improve, restore, or beautify their school's environment. Students can enter by visiting http://www.thesca.org/green-your-school, where they can learn about making their school more eco-friendly, read contest guidelines and complete the entry form. Entries may include projects that have been underway since August of 2008 or are currently in development.
"The 'Green Your School' contest provides a unique opportunity for students and teachers to work together to make greener choices that will positively affect the environment and their community," said Mary Margaret Sloan, SCA Northeast Regional Director. "In my book, any student who undertakes a 'green project' for their school and involves as many students, teachers and members of the community as possible is a winner."
Activities such as setting up in-school recycling or compost programs, keeping lights and computers turned off when not in use, and encouraging students to walk or ride the bus to school are all ideal solutions for creating a greener school.
"We are thrilled to be a part of such a worthwhile project. It is critical for youth to become aware of and involved in protecting the environment, as they are the generation who will benefit most from a sustainable planet," said Susan Haspel, Vice President, Corporate Community Affairs, NBC Universal. "I look forward to hearing about the exciting and useful green ideas they create."
A panel of qualified judges, including environmentalist Simran Sethi and NBC News' Anne Thompson, will select the Grand Prize and two First Prize winners. Contest winners will be announced on or around November 15.
Entries will be judged on the following criteria:

Does the project improve the environmental health of the school?
Is it sustainable?
Did a student or students initiate it and does it engage other students, teachers, administrators and/or the outside community?
Funding for the "Green Your School" contest comes from the NBC Universal Foundation in connection with NBC Universal's Green Initiative, "Green is Universal."
About the Student Conservation Association
SCA is a nationwide conservation force of college and high school students who protect and restore America's parks, forests, refuges, seashores and communities. For more than 50 years, SCA's active, hands-on practice of conservation service has helped to develop a new generation of conservation leaders, inspire lifelong stewardship, and save the planet. SCA is a non-profit headquartered in Charlestown, New Hampshire with regional offices in Washington D.C., Oakland, Philadelphia, Pittsburgh and Seattle. For further information, visit http://www.thesca.org.
About Green is Universal
Launched in May 2007, "Green is Universal" is NBC Universal's ongoing green initiative dedicated to raising Green awareness, effecting positive change to the environment, and substantially greening its own operations. Throughout the year, NBC Universal uses its numerous media and entertainment platforms to educate the public on the environment, with over 250 hours of green-themed content airing across 42 NBCU brands.
###