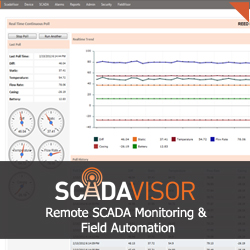 Tampa, FL (PRWEB) July 01, 2012
Fielding Systems announces the release of major enhancements to the mobile version of its remote SCADA monitoring application ScadaVisor. The enhancements further empower oil and gas field engineers by adding updated support for artifical lift controllers, automated valves and other control devices used in enhanced oil recovery production.
The capabilities of this new release include control over plunger lift cycles, pump off controller cycles, valve control and variable frequency. This capability is included with the ScadaVisor mobile product in addition to the standard alarming, reporting and graphing capabilities that are already available to field personnel using any modern smartphone.
The ScadaVisor mobile capability enhancements include upgrades to Fielding Systems proprietary data communication engine VisorBridge. VisorBridge is the industries' only SCADA-in-the-Cloud communication engine that runs on the Windows Azure cloud platform and leverages the extreme scalability of the Azure Service Bus.
About ScadaVisor
ScadaVisor is cloud-based remote SCADA monitoring service for upstream and midstream companies in the oil and gas industry with the ability to monitor their assets, analyze production and notify personnel in the event of issues. ScadaVisor is offered as a Software as a Service (Saas) application providing producers of all sizes with the ability to efficiently and effectively monitor their remote devices.
About Fielding Systems
Fielding Systems provides cutting-edge web and cloud based Oil & Gas software solutions for midstream and upstream companies of all sizes. The company's software helps producers gain a competitive advantage by optimizing well production, improving well safety and reducing costly downtime. For more information, a demo or a free remote monitoring pilot of the software, visit http://www.fieldingsystems.com or call 877.987.4823.
#########
All product and company names herein may be trademarks of their registered owners.
For more information, contact:
Fielding Systems, LLC
877-987-4823
info(at)fieldingsystems.com