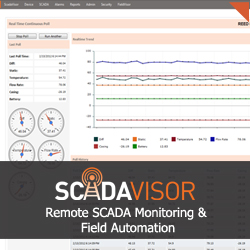 Tampa, FL (PRWEB) July 31, 2012
Today, Fielding Systems releases significant enhancements to its remote SCADA monitoring service, ScadaVisor, by adding support for real time gas lift capabilities. Oil and gas producers in any size production operation can more easily analyze data to compare their purchased gas versus produced gas. In addition, the Fielding Systems hosted service customers can add in trends of injected gas versus produced gas in easy to view customized trend views and charts.
ScadaVisor users can now also selectively target specific fields and formations for analysis which can even be viewed any modern smartphone and also on popular tablet devices such as the iPad and Android Galaxy. The gas lift analysis service is supported by VisorBridge, the Oil and Gas industries' only SCADA communication engine in the cloud that runs on the Windows Azure cloud platform.
About ScadaVisor
ScadaVisor is an innovative, remote SCADA monitoring service for upstream and midstream companies of all sizes in the oil and gas industry with the ability to monitor their assets, analyze production and notify personnel in the event of issues. This monitoring solution allows users to manage and control remote devices such as flow computers, compressors, pump off controllers and artificial lift devices. As a web-based application, ScadaVisor can be accessed from any type of computer with an internet connection from anywhere in the world. ScadaVisor is offered as a Software as a Service (Saas) application providing producers of all sizes with the ability to efficiently and effectively monitor their remote devices.
About Fielding Systems
Fielding Systems provides cutting-edge web, mobile and cloud based Oil & Gas software solutions for E&P companies of all sizes. For additional information or a demo of the software, visit http://www.fieldingsystems.com or call 877.987.4823.