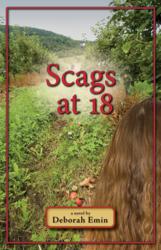 Reviewers had this to say about the previous novel, Scags at 7:"The reader experiences this lyrical tour de force as if she too was a child – Emin has written a magical, haunting novel." Stephanie Dickinson, author of Half-Girl
New York, NY (PRWEB) November 29, 2011
The second volume of the Scags Series is now available. Scags at 18 tells the story of her first semester in College in the fall of 1969. Three historical events from that fall shape Scag's experiences:
October 1--the US release of the Beatles' album, "Abbey Road"
November 15--the anti-war march in DC that didn't stop the Vietnam War or Nixon from watching football
December 1--the first draft lottery based on the birthdays of all draft-eligible men
These three major historical events form the structure of this novel and show us what it was like for Scags, a young woman from Skokie, IL (a mostly Jewish enclave in the northern suburbs of Chicago) to arrive for the first time in at an elite school in Vermont. Having won a full scholarship to the unnamed College, Scags is painfully aware of how poor she is (e.g., one of her dorm mates drives a Bentley to classes).
The opportunity though to be at such a school and to make something meaningful out of her life leads her to experiment in several ways: to find a boyfriend and from that to learn what love is. To discover the power of feminism, specifically by reading Virginia Woolf's "A Room of One's Own."
It's during her trip to DC to participate for the first time in an anti-war march that Scags experiences more than she could have imagined. She drops acid for the first and last time but during her "trip" she confronts the overlap between the political and the spiritual. While her life isn't immediately changed by this, it's now easier for Scags to understand who she is and what it is she wants and doesn't want to do with her life.
The harrowing end to the novel isn't one many readers will expect. Yet it puts into perspective the consequences of all that the 1960s excited in the young.
Scags at 18 is part of a 4-volume series that shows the awakenings of a woman to life. Rather than composed as a typical "coming of age" novel, these 4 separate parts of Scags's life represent the different elements that make up a woman's total character. Each volume is told in a different first-person voice. Scags at 18 is written as a diary.
Deborah Emin, the author, is a writer, blogger and political junkie. She has hosted a reading series for her Queens neighborhood (the REZ Reading Series), been a campaign blogger for Dennis Kucinich's 2008 presidential campaign. And she has taught writing to over 1000 students, several of whom went on to become successful writers.
Sullivan Street Press, Inc. is an ebook only publisher for both financial and environmental reasons. Sullivan Street Press also disseminates timely information about the changing nature of the publishing business.
For a review copy or for author interviews, please contact the publisher.
the author's blog is at http://www.deborahemin.com
the publisher's facebook page is at http://www.facebook.com/sullivanstpress
twitter @sullivanstpress
###