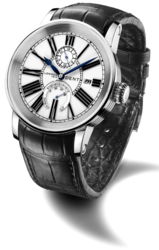 Our luxury timepieces section is growing rapidly with new, expensive watches being added frequently
london, UK (PRWEB UK) 5 December 2012
Luxury watches are stunning pieces of craftsmanship which say a lot about the individual wearing them. They are collectable and many brands are becoming investment pieces. Which is exactly why the luxury and lifestyle website, Scaleogy has given them a lot of attention.
Scaleogy has been named 'The Success Catalyst' and from their luxury and lifestyle platform they deliver the best of the best to people who live a lifestyle of luxury and inspiration to those who are striving towards it.
The founder of Scaleogy, Ben Hulme says "Our luxury timepieces section is growing rapidly with new, expensive watches being added frequently. Watches have been a big passion of mine for many years and it's great to have a platform to share these fantastic pieces."
Within the luxury timepieces section you will be able to see stunning photography of these expensive watches and read reviews about them. The timepieces section within Scaleogy is aimed at showcasing these luxury brands to both first time buyers and avid collectors.
Scaleogy has many more articles and photos to come from the best watchmakers in the world, but they currently feature brands such as Dent London, Rolex, Patek Philippe, Audemars Piquet, Faberge, U-Boat and many more.
This category within the Scaleogy website makes great reading as a consumer and a great resource for luxury watch fanatics the world over.
Scaleogy is all about working with the best luxury and lifestyle brands. Luxury watches are a perfect fit for their platform because they really are at the pinnacle of craftsmanship and luxury.
Watches are very collectable and many are very becoming great investments for the future and through the timepieces section at Scaleogy, they are creating a fantastic resource for luxury watch enthusiasts all over the globe.
You can check out the Scaleogy timepiece section as well as their other luxury and lifestyle categories too.