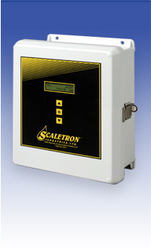 The Model 1020™ features an easy to use interface that brings a new level of simplicity and accuracy to chemical weighing applications.
Plumsteadville, PA (PRWEB) July 16, 2010
Scaletron Industries, Ltd., a manufacturer of corrosion resistant digital and mechanical scales, has announced the addition of the Scaletron Model 1020™ 5-Digit Controller designed to provide accurate monitoring of water treatment chemicals when used in conjunction with its complete line of drum, tank, platform, ton cylinder and spill containment scales.
"The Model 1020™'s easy to use interface features a simple three button panel with menu prompts that brings a new level of simplicity and accuracy to chemical weighing applications", stated Edward Dougherty, President at Scaletron Industries. "In addition, the Model 1020™ helps insure both operator and plant safety by accurately providing the critical data needed to determine chemical usage."
Available with one or two channels, each with 4-20mA standard, the controller can be configured to simultaneously monitor levels in two separate chemical containers independently. The Model 1020™ provides excellent accuracy at 0.1% to 0.25% of full scale capacity. Featuring a backlit, 2 line, 16 character, alphanumeric display, the software allows the user to monitor chemicals in a variety of formats including pounds, kilograms, gallons, or liters.
In addition, the user may combine different base designs on different channels of the same controller, regardless of the number of load cells in the base design. The user may apply the controller to filling applications, as well as loading applications.
Options include up to four set points, which are programmable for high or low level alarms with relay contacts.
To provide protection from corrosive chemicals, the controller electronics are housed in a NEMA 4X, UL approved enclosure and can be remote mounted up to 200 feet from the scale base frame.
The Model 1020™ controller is ideal for measuring the usage of chlorine gas, sodium hypochlorite and other chemicals used in a variety of applications including wastewater treatment, municipal water treatment, industrial process water treatment, municipal and commercial swimming pools and the weighing of chemicals and gases in the chemical industry.
The Scaletron Model 1020™ 5-Digit Controller is available for quotation online at http://www.scaletronscales.com or by contacting Scaletron Industries at 800-257-5911.
About Scaletron Industries Ltd.
Scaletron is a leading manufacturer of corrosion resistant electronic digital and mechanical scales and accessories. Scaletron's scales are designed for weighing and monitoring the usage of corrosive chemicals and/or materials in water treatment, wastewater treatment and industrial applications.
Scaletron offers a complete line of scales including 150 lb. Cylinder and Ton Cylinder Scales; Drum Scales; Tank and Platform Scales; IBC Tote Scales and Spill Containment Scales. Scales feature a low profile platform design, capacities from 30 lbs. to 30,000 lbs., and a five (5) year warranty.
Product Image available for download: http://www.scaletronscales.com/press/1020.jpg
Product Image available for download: http://www.scaletronscales.com/press/1020.tif
Scaletron Industries, Ltd.
Bedminster Industrial Park
53 Apple Tree Lane
P.O. Box 365
Plumsteadville, PA 18949 USA
Toll Free: 1-800-257-5911 U.S.A. & Canada
International: 215-766-2670
###