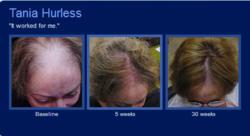 I believe Scalp Med will become the most recommended method for combating hair loss.
Van Nuys, CA (PRWEB) May 08, 2013
NHSI, Inc. announces that it has entered into an exclusive distribution agreement with Modern Health Laboratories, Inc. to re-launch its newly-reformulated ScalpMed hair regrowth system via a planned multi-million dollar direct marketing campaign. The planned campaign will include television infomercials, commercials, radio, print and social media.
"I am excited for this opportunity to offer millions of men and women a product that will grow their hair back," says Shane Malek, founder of the Nevada Hair and Scalp Institute and developer of the Scalp Med hair growth system.
Since its inception, Scalp Med has quietly garnered hundreds of thousands of customers but Malek believes that his product is still in its infancy. "Hair loss has increased at an alarming rate around the world amongst both men and women. It is one of those secret things that no one likes to talk about, but it can be emotionally devastating, especially for women. I believe Scalp Med will become the most recommended method for combating hair loss, surpassing even transplants. ScalpMed helps grow your hair without surgery, wigs or weaves. In fact, many people may choose ScalpMed before or even after they get transplants because what they don't often tell you is that eventually the hair around the transplant will fall out too."
The ScalpMed system is a topical hair growth system that incorporates two primary components, Vitadil and Nutrisol. NHSI also offers a line of hair and scalp care products specially formulated for thinning hair. A sulfate free thickening shampoo, an intense conditioner fortified with essential amino acids, minerals and vitamins for hair and the scalp, a special detoxifier to remove the excess oils and buildup that clogs follicles, and a special cortex enlarging hair spray.
About Modern Health Laboratories
Modern Health Laboratories, Inc. was established with the purpose of researching, developing, and distributing new, comprehensive health and beauty products that are safe and effective. By working with some of the top researchers and scientists in the health and beauty field, we're dedicated to bringing unique and exciting products that really work for an affordable price.