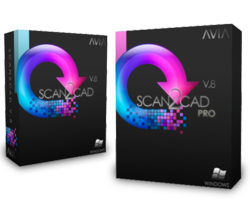 Scan2CAD continues to be a market leader in raster and PDF to vector conversions.
Worcestershire, UK (PRWEB) May 24, 2011
Scan2CAD (http://www.scan2cad.com) is a market leading raster and PDF to vector conversion and editing package. With a 15-year legacy Scan2CAD has continued to develop ahead of the market to provide users with intelligent and precise conversions.
Some of the key features Scan2CAD boasts are: (see the full list at http://www.scan2cad.com)

Intelligent, precise PDF and raster to vector conversion
PDF conversion optimised to build DXF strings, arcs, beziers, circles. Etc.
Comprehensive raster and vector editing tools, both powerful and simple.
Powerful color management tools.
OCR tools for optimising text identification
Compatible with all CAD & CNC applications that support DXF.
Batch processing.
Free dedicated user support.
Very competitively priced.
After many successful years of marketing Scan2CAD, Softcover International Ltd passed the reigns to AVIA. This has allowed AVIA to seize the opportunity to market, support, and drive an enhanced development program that will ensure that Scan2CAD remains a market leader in Raster and PDF to Vector conversion software.
George Kennedy, Head of Development at Scan2CAD said, "I'm extremely pleased with AVIA's decision to market Scan2CAD. It brings new energy to the progress of Scan2CAD, already a market leader"
AVIA has made a long-term commitment to Scan2CAD and looks forward to establishing Scan2CAD as the prime product in its range for quality, affordability and excellence of support.
Customer support is a key requisite to the future success of Scan2CAD and AVIA welcomes old and new Scan2CAD customers alike to participate in driving their future vision for Scan2CAD.
See why Scan2CAD is a market leading raster to vector and PDF to vector converter at http://www.scan2cad.com
http://www.scan2cad.com
info(at)scan2cad(dot)com
+44 (0) 845 519 7838
Avia Systems Limited
Woodside House
96 Wilden Lane
Worcestershire
DY13 9LR
U.K.
# # #