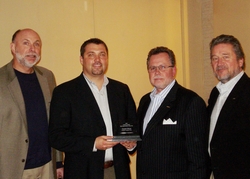 "The sales team at Southeast Surgical persevered through a difficult year of capital budget cutbacks and frozen hospital budgets, and we are proud to recognize their ability to achieve substantial growth within their territory" ~Tim Scanlan
Atlanta, GA (PRWEB) February 10, 2010
Southeast Surgical, Corp. (Atlanta, GA) today announced that it has received the "2009 Southeast Region Sales Representative of the Year" award from Scanlan International, manufacturer of specialty surgical instrumentation for the Cardiovascular, Vascular, Thoracic, Neurosurgical and Transplant specialties. The award was presented at the annual awards ceremony held in conjunction with the Society of Thoracic Surgeons (STS) meeting in Fort Lauderdale, Florida on January 23, 2010.
"The sales team at Southeast Surgical persevered through a difficult year of capital budget cutbacks and frozen hospital budgets, and we are proud to recognize their ability to achieve substantial growth within their territory" said Tim Scanlan, President and CEO of Scanlan International (Saint Paul, MN).
Donald S. O'Bryan, Jr., President of Southeast Surgical, Corp. accepted the award. He stated "we were honored to have been chosen by Scanlan International to represent their world-class surgical instruments in November of 2008. We credit much of our success to the unparalleled quality of their surgical instrumentation, phenomenal reputation and exceptional customer and distributor support. It is because of this that we accept the 2009 Southeast Region Sales Representative of the Year award with sincere gratitude and great humbleness."
Southeast Surgical currently represents surgical device manufacturers in the states of Georgia, Alabama and Tennessee; including Scanlan International, Thompson Surgical Retractors and the LIT Surgical One Headlit™. They have achieved a successful business model by building a sales team that focuses solely on the Cardiovascular and Thoracic specialties, which require in-depth product and procedural knowledge, extensive experience and personal relationships with Cardiovascular and Thoracic Surgeons.
For additional information on this award or Southeast Surgical, contact Melissa OBryan or visit http://www.se-surgical.com.
Contact:
Melissa O'Bryan, VP, Operations
Southeast Surgical, Corp.
(770) 781-1460
http://www.se-surgical.com
###