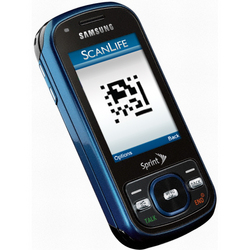 New York, NY (PRWEB) July 7, 2009
Scanbuy, a global leader in mobile marketing solutions, today announced that its ScanLife 2D barcode application will now be preloaded on Samsung Exclaim from Sprint (NYSE:S). This is the first wireless phone to be shipped with the ScanLife technology in the United States. Scanbuy expects additional models will be shipped with the application in the coming weeks and months.
ScanLife allows users to scan 2D (two-dimensional) barcodes with a standard camera phone to automatically display a specific mobile Web site, launch a video, and more. A user can then view and share that information through social networking communities; Samsung Exclaim will also feature social networking applications such as Facebook and MySpace.
Sprint began offering the ScanLife service to customers as a downloadable application for its phones in November 2008 and has since seen significant interest from its subscribers. Thousands of people have downloaded the ScanLife application to scan codes found in Sprint marketing collateral. Many have also created their own free personal ScanLife codes, which link to social networking sites and contact information.
"This is an enormous milestone for the development and adoption of mobile barcode technology in the United States," said Jonathan Bulkeley, chief executive officer of Scanbuy. "The demand for this technology by users and publishers has been growing rapidly, and placing the ScanLife application into new phones will make the experience easier than ever."
Marketers, media providers and individuals can use the ScanLife Code Management Platform to create 2D barcodes. The barcodes can be placed on any physical media from a magazine ad to a business card to give people immediate access to any mobile content such as product discounts or contact information. Scanning barcodes eliminates the need to type lengthy Web addresses or search for content by keywords. The application for Samsung Exclaim will read EZcodes and Datamatrix codes which are generated from the ScanLife platform.
Sprint customers who purchase Samsung Exclaim can find ScanLife under Applications in the My Stuff folder. Users with other phone models can download ScanLife for free at http://www.getscanlife.com on the phone's mobile browser.
About Scanbuy:
Scanbuy is the leading global provider of mobile barcode solutions that use the camera phone as the link between the physical world and the digital world. The ScanLife solution consists of a mobile application, Code Registry, Code Clearing House and Code Management Platform. The technology has been successfully deployed and supported by leading mobile providers and handset manufacturers in the United States, Mexico, France, Spain, Italy and Denmark. Media companies and marketers use the solution to create and manage measurable 2D barcode campaigns, extending brand engagement onto mobile devices.
Founded in 2000, the company's investors include Longworth Venture Partners, Masthead Venture Partners and Hudson Ventures.
For more information on Scanbuy, please visit the Scanbuy or ScanLife websites.
###