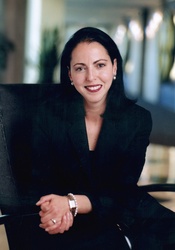 This is a new position at The Knot
NEW YORK (PRWEB) October 10, 2007
In this new role, Scardino will be responsible for developing and overseeing The Knot's business, including content, marketing and e-commerce, across the Company's suite of brands. Scardino will also be responsible for driving growth for The Knot, which targets couples who are planning their weddings and lives together across multiple platforms: online, print and television. She will lead strategic partnerships to expand the reach and revenues of the Company's lifestage verticals. Scardino will report to Chairman and CEO David Liu.
"This is a new position at The Knot," explained David Liu, "and one that strengthens our management team, particularly in consumer marketing. Janet has spent her career building the most well-known and ubiquitous media brands around the world. Her talent and experience in television and digital media are the perfect fit to drive continued development of the Company's cross-platform lifestage media growth strategy."
"The Knot is truly establishing a new media model for the twenty-first century," said Scardino. "As the unparalleled online leader in the wedding category, The Knot has built an emotional relationship with its audience. My focus will be to continue to build this relationship beyond the 'white dress' with natural brand extensions like The Nest and The Nest Baby. The Knot is uniquely positioned for advertisers and partners looking to engage a valuable audience as they celebrate the most important events of their lives."
Much of Scardino's career over the past twenty years has been focused on pioneering development of new media choices, building audiences in new markets, and driving advertising and subscription revenues. Most recently at Reuters, she served as Executive Vice President and Managing Director and was in charge of all their consumer media services in the Americas and Europe. She was responsible for running a network of ad-supported websites, mobile services, internet delivered television and outdoor media properties. Under her leadership, Reuters traffic and advertising revenues grew substantially.
Prior to Reuters, she was Senior Vice President, International Marketing for AOL, responsible for all Brand and Acquisition Marketing for AOL's services in 16 countries. At AOL she developed a new brand identity and implemented a series of initiatives to drive profitable subscription growth.
Previously Scardino worked for the Walt Disney Company as Managing Director of the Disney Channel based in Milan, Italy. In her role, she launched and managed the premium pay channel, overseeing all aspects of its successful children's television and digital businesses, including the localization of the brand.
Scardino began her career with MTV Networks; she held a number of senior positions in Marketing and Programming, including Vice President of International Marketing. She was instrumental in launching several new channels that expanded MTV's reach to over 100 million new homes and establishing MTV as one of the most well-known brands in the world.
ABOUT THE KNOT, INC.
The Knot, Inc. (NASDAQ: KNOT, http://www.theknot.com) is a leading lifestage media company. The Company's flagship brand, The Knot, is the nation's leading wedding resource, reaching well over one million engaged couples each year through the #1 wedding website TheKnot.com, The Knot Wedding magazines and The Knot, The Knot books (published by Random House and Chronicle), and several television series bearing The Knot name (on Style Network, Oxygen, and Comcast). The Nest focuses on the newlywed-to-pregnancy lifestage with the popular lifestyle website TheNest.com, a home decor book series with Clarkson Potter, The Nest magazine, and baby offshoot TheNestBaby.com. Also under The Knot, Inc. umbrella are e-commerce and service sites for weddings (WeddingChannel.com, ShopforWeddings.com, WedORama.com, GiftRegistryLocator.com); party planning site PartySpot.com; teen-oriented PromSpot.com; online personals site GreatBoyfriends.com; and local baby services and community site Lilaguide.com. The Knot, Inc. is based in New York and has several other offices across the country.