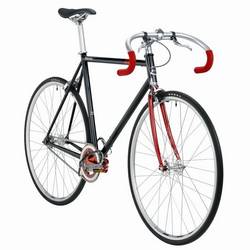 "Our new 980-gram frame is a serious innovation in cycling technology, and we're certain that it will capture the attention of elite riders."
Chapel Hill, NC (PRWEB) January 26, 2010
Scattante today announced its full line of 2010 road bikes, including an all-new, race-ready carbon frame that weighs in at less than 1000 grams.
The Scattante lineup for 2010 will include four road bikes built with the new 980-gram frame, as well as a new line of single-speed road bikes, the Americano series, designed for commuters and urban riders. In total, Scattante will bring 20 new or significantly updated road bike models to market starting April 2010. Scattante road bikes will be available through Performance's 86 retail stores, catalog and website.
"Scattante offers riders at every level the maximum performance, comfort and value that a road bike can deliver," said Bo Glenn, Divisional Merchandise Manager. "Our new 980-gram frame in particular is a serious innovation in cycling technology, and we're certain that it will capture the attention of elite riders."
Scattante is an important part of Performance Bicycle's mission of getting more people on bikes more often. The 2010 lineup of Scattante road bikes is designed to appeal across a wide spectrum of riders, including competitive riders, triathletes, casual riders and beginners. Scattante's 2010 model year includes:
A 980 Gram Bike Frame – The CFR-A3 Frame

Scattante designed and fabricated its new 980-gram racing frame from the ground up and infused it with the newest carbon fiber technology. The result of a rethought and revamped development process, the CFR-A3 frame marks a milestone in cycling technology.
The lightweight carbon frameset has been designed with meticulous detail to the carbon lay up and tuned for performance with asymmetric chain stays.
Scattante will be introducing four new models with the new CFR-A3 frame outfitted with Shimano's best drivetrains, including the flagship Shimano Dura-Ace Di2 on the Pro version. More details to follow.
Scattante Americano Series – Single Speed Road Bikes for the City
Scattante's line of new single-speed road bikes (MSRP: $599; Street: $499) is designed for practical but stylish commuters and city riders who stick largely to path and pavement. Inspired by the espresso drink of the same name, Scattante Americano bikes offer an assortment of designs, color combinations, bars and grips for modern tastes.
All four models—Americano One, Americano Two, Americano Three and Americano Four—feature Cro-Mo frames and custom Original Single Speed cranks.
Scattante CFR-S12 Symmetrical Carbon Frame
The Scattante CFR Elite and Scattante CFR Sport both feature a 100 percent full carbon monocoque frame. The CFR Elite (MSRP: $2999; Street: $2499) is powered by a Shimano Ultegra drivetrain and triple chainring crankset, while the CFR Sport (MSRP: $1999; Street: $1599) has a Shimano Tiagra 9-speed drivetrain and double chainring crankset.
Alloy Road Bikes – The Scattante R Series
The Scattante R-670 (MSRP: $1999; Street: $1599) offers race-level technology at an excellent value. A stiff aluminum XRL road frame comes with a new Shimano 6700 10-speed drivetrain for crisp and clean shifting.
The Scattante R-560 (MSRP: $1599; Street: $1199) focuses on quality and economy with an XRL aluminum frame and a Shimano 105 10-speed drivetrain.
Scattante's R-330 (MSRP: $999; Street: $799) is a dependable entry-level road bike for modest budgets. Features a lightweight XRL aluminum frame and Shimano Sora drivetrain.
Women's Road Bikes
The Scattante W-560 offers a women's specific aluminum road frame and a Shimano 105/FSA drivetrain, with gear shifters designed for smaller hands (MSRP: $1599; Street: $1199).
The Scattante W-330 (MSRP: $999; Street: $799) is an entry-level road bike with a geometry designed specifically for women, a 27-speed Shimano drivetrain and aluminum frame.
On and Off Road – Scattante Specialty Series
Built for tough terrain, the Scattante X-560 has a double-butted aluminum cross frame and a Shimano 105 10-speed drivetrain (MSRP: $1599; Street: $1399).
The Scattante X-330 is a dual-purpose road bike that fits any budget—features a double-butted aluminum cross frame and Shimano Sora drivetrain (MSRP: $999; Street: $799).
The Scattante T-560 is the bike for triathlons. The T-560's double-butted aluminum aero frame is mounted with aerobars, a 72-degree seat tube and a Shimano 105 10-speed drivetrain (MSRP: $1799; Street: $1399).
Scattante Fitness Series
The Scattante FR-560 (MSRP: $1599; Street: $1199) comes with an aluminum frame, a comfortable flatbar handlebar and a Shimano 105 10-speed drivetrain with Rapid Fire shifters for those who want to make cycling a regular part of their fitness regimen.
Scattante's FR-330 (MSRP: $999; Street: $799) is for those who want to get on the road with friends and family—a light aluminum frame is accompanied by a Shimano Sora drivetrain built for flatbar handlebars.
More information about Scattante can be found at http://www.performancebike.com.
About Performance Bicycle
Performance Bicycle is the number one bike specialty retailer in the U.S. and is a wholly owned subsidiary of Performance Inc. Performance provides a multi-channel cycling retail experience that spans catalogs, a website at http://www.performancebike.com and 86 nationwide stores that cater to both the avid biking enthusiast and the recreational rider. Performance Inc. is majority owned by North Castle Partners of Greenwich, Connecticut. For more information about Performance Bicycle, please visit http://www.performancebike.com.
###