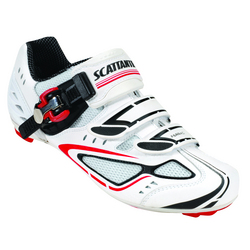 With road bike shoes, we are continuing the Scattante tradition of offering top performance and quality packaged in the best value on the market
Chapel Hill, NC (Vocus) July 20, 2010
Scattante announced today that it is launching a new line of road bike shoes for men and women.
The first complete line of cycling shoes available from Scattante comes in two styles, the Ferraci and Falcone, that offer two different types of rides. The Scattante Ferraci, with its Nylon Composite sole, provides a strong sole and breathable upper. The Scattante Falcone offers a top-of-the-line, ultra stiff and super lightweight Carbon Fiber Composite sole.
Scattante road bike shoes, as well as the complete line of Scattante road bikes, are available exclusively through Performance Bicycle stores, catalog and website.
"Good shoes are a critical part of a good ride, especially long-distance rides," said Stephanie Cozzarelli, Divisional Merchandise Manager. "Rigid soles transfer more of the rider's power to the pedals, increasing efficiency and performance. A good, stiff and lightweight shoe is going to provide the most power."
The stats on each shoe:
Scattante Falcone – The Scattante Falcone has a carbon fiber sole that provides the ultimate in ventilation, power and comfort. Key features:

Carbon fiber composite sole reduces weight while providing a stiff and powerful pedal stroke
Patented multivent system offers breathable support while supplying comfortable airflow
Three ergonomic Velcro straps for a secure fit
Ultra-lightweight at 475g for men and 453g for women
MSRP: $129.99
Scattante Ferraci – The Scattante Ferraci provides terrific airflow with its rigid vented sole and breathable mesh upper. Key features include:

Ultra-rigid nylon-fiberglass composite sole
Synthetic leather and nylon mesh upper provides breathable support and continuous air circulation
Reliable fastening with two Velcro straps and one ratcheting buckle closure
Lightweight at 621g for men and 552g for women
MSRP: $99.99
"With road bike shoes, we are continuing the Scattante tradition of offering top performance and quality packaged in the best value on the market," said Cozzarelli.
The new lineup of Scattante road shoes are compatible with virtually all road pedaling systems on the market, and come in stylish designs for both men and women.
More information about Scattante can be found at http://www.performancebike.com.
# # #