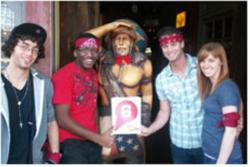 Orlando, Florida (PRWEB) October 15, 2012
In response to high client demand on the heels of the success of The Great Race "do it yourself" scavenger hunt, Masters of the Hunt debuts The Great Race 2.0.
Since its release in June of 2011, Masters of the Hunt's "do it yourself" product, The Great Race, has been a top seller. Quickly surpassing many other popular scavenger hunts, The Great Race has created an exciting and memorable activity for birthday parties, youth group events, college "get to know the campus" programs, and corporate teambuilding.
Several clients told Masters of the Hunt that The Great Race scavenger hunt was so much fun they wanted to do it again with a new set of clues and challenges. After hearing this request over and over, Masters of the Hunt decided to answer these requests with The Great Race 2.0.
Scavenger Hunt now available for purchase on the Masters of the Hunt website. The Great Race 2.0 follows the same format as the original but has all new Photo Routes, Scavenger Hunt Item Routes, Detours, Road Blocks and Intersection tasks. Clients wishing to make this adventure an annual event now have 2.0 to experience. If the popularity continues, look for Masters of the Hunt to create 3.0 next year!
Based in Orlando, Florida, and with over twenty years of experience in the scavenger hunts, corporate treasure hunts, and conference/trade show events business, Masters of The Hunt has enjoyed the privilege of working with companies from a wide range of industries. Between scavenger hunts, corporate team building hunts and Do-It-Yourself products, Masters of The Hunt offers an almost unlimited variety of ways to create a unique personalized experience for the adventure of a lifetime. To learn more, visit: MastersoftheHunt.com or for more information on how to book a scavenger hunt or promotional hunt event for your business, contact Kerri Bishop toll-free: 1-877-4- WILDLY or by email: kerri(at)mastersofthehunt(dot)com