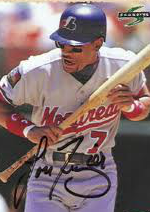 "They all did great things here at SCC so the recognition is well deserved. It's also great that we've started this tradition of honoring our own," Marcus Clapp, SCC Athletic Director.
Scottsdale, AZ (PRWEB) September 28, 2012
Scottsdale Community College will hold its second annual Athletic Hall of Fame induction dinner Friday, October 26 at the Desert Oasis Dining Room at the SCC campus, 9000 E. Chaparral Road, Scottsdale. The dinner and ceremony will be from 6:00 - 8:00 p.m.
This year's event honors two former players and a retired coach and faculty member. Welcoming remarks will be delivered by SCC President Dr. Jan Gehler. SCC Dean of Students Donna Young also will offer comments.
"It's a great evening for the inductees and their families," said SCC Athletic Director Marcus Clapp. "They all did great things here at SCC so the recognition is well deserved. It's also great that we've started this tradition of honoring our own."
The ceremony is open to the public but tickets are limited. Tickets are $35 each.
This year's inductees are Lou Frazier, Julie Crutchfield and Joe Germaine.
Lou Frazier
Lou Frazier ranks second in SCC history in batting with a career .452 average, 2nd in runs scored in his career with 122, 1st in stolen bases for a season with 56 and 1st all-time in career stolen bases with 101. Lou "Sweet Lou" Frazier played for the SCC Artichoke Baseball team.
After a stellar major league career in which he played for the Montreal Expos, the Texas Rangers and the Chicago White Sox, Frazier went on to coach in the major leagues. He won two World Series rings with the Boston Red Sox, while mentoring and working with such players as Manny Ramirez, Dustin Pedroia, Grady Sizemore and others.
Frazier founded the Louie Sluggers organization, which allows him to mentor youth in the fundamentals of winning baseball. In just his first year of running the organization, Sweet Lou's team became the 12 and under state champions.
He will be inducted by John Kazanas, a baseball scout who coached at SCC when Frazier played there.
Julie Crutchfield
As the SCC gymnastics coach for 6 years, Julie Crutchfield's teams won the ACCAC conference championship in all but one of those years, while finishing 2nd in the nation in 1977. That same year she was named National Gymnastics Small Coach of the Year.
In addition to her success with the SCC gymnastics program, Crutchfield also coached the cross country team. Her contributions to the school are still seen today through the development of the two-mile walk on the painted sidewalks.
She also was instrumental in the planning and operation of the fitness center, serving as the first co-director of the center in the early 1980s. Crutchfield also started a water skiing program at SCC aimed at teaching beginning through advanced water skiing skills to both traditional students and those with physical challenges, a pursuit she still enjoys to this day.
Crutchfield served as the division chair for the Health, Physical Education, Recreation and Dance (HPERD) department for a number of years before retiring from SCC in 2002.
She will be inducted by Amy Goff, head of SCC's Health, Physical Education, Dance and Nutrition department.
Joe Germaine
As a two-sport standout at SCC, Joe Germaine was an All-Conference player on both the football and baseball teams. He holds the record in football for most passing yards in a game (580), ranks number one in completions in a game (49) and holds the record for passing attempts in a game with 62. Although he only played one year of football at SCC, he ranks in the top 10 in 8 different statistical categories.
After he left SCC, Germaine attended Ohio State University. In his senior year (1998) at Ohio State Germaine was a full-time starter at quarterback, as well as a team co-captain. That year he set 11 school records, throwing for 3,330 yards and 25 touchdowns. He was the Chicago Tribune Silver Football Award winner as the Big Ten Conference Most Valuable Player that year. He threw for 6,370 yards and 56 touchdowns in three seasons. Germaine was selected to the Ohio State Football All-Century Team in 2000. He also played in both the NFL and AFL before moving on to a coaching career.
SCC Head Football Coach Doug Madoski will induct Germaine.
Two of the honorees, Frazier and Crutchfield, will be in attendance.
Tickets may be obtained by contacting Karen Johnson at (480) 423-6597 or karen.johnson (at) scottsdalecc (dot) edu.
Scottsdale Community College is one of the 10 regionally accredited Maricopa Community Colleges and a premier educational and cultural center that serves the needs of its diverse communities by providing innovative and creative opportunities to learn, grow and achieve. SCC offers affordable, high-quality instruction to traditional and non-traditional students, career-minded professionals and life-long learners.