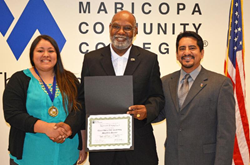 "She's passionate, dedicated, honest and hardworking." --Becky Bradley, Director of the SCC Office of Service-learning and Leadership
Scottsdale, AZ (PRWEB) May 10, 2014
Scottsdale Community College student Miriam Villanueva has received the Chancellor's Civic Leadership Medallion, which recognizes student accomplishments in civic participation and leadership. She is among 19 students from throughout Maricopa Community Colleges to receive the award, and one of three to be singled out for distinction for going above and beyond the application's minimum requirements.
To be considered for the award, students must document and accumulate points for eligible civic leadership activities. Now in its second year of being offered, the award recognizes the importance of civic participation and leadership as a critical feature of higher education.
She and the other honorees received their award during a May 2 breakfast ceremony with the Chancellor and other District officials.
Villanueva was honored for her broad involvement in both campus and community projects. She served as an officer in several student clubs, including the Latino Student Association, Artie's Community for Service and Student Leadership Forum. She's also a graduate of the MCCCD LeaderShape Institute and is a student worker in SCC's Center for Civic & Global Participation.
"She's passionate, dedicated, honest and hardworking," said Becky Bradley, director of the SCC Office of Service-learning and Leadership, who nominated Villanueva for the medallion. "She is the same person in all of her roles in life, whether it is as a student, leader, citizen, daughter, sister or friend."
This is the second time an SCC student has been honored with the Civic Leadership Medallion. Last year, Manuela Mikesell, a student resource specialist in the American Indian Program and student, was recognized for her leadership and civic engagement activities.
The award is sponsored by the Maricopa Community Colleges' Center for Civic Participation. More information about the awards is available at http://bit.ly/1ss7UiT.
###
Scottsdale Community College is one of the 10 regionally accredited Maricopa Community Colleges and a premier two-year higher education institution that serves the needs of its diverse communities by providing innovative and creative opportunities to learn, grow and achieve. We offer affordable, high-quality instruction to traditional and non-traditional students, career-minded professionals and life-long learners.