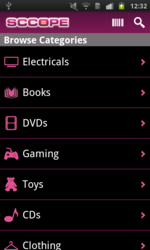 We aim to bring our shopping app closer to consumers and ensure it is beneficial to the them wherever they shop
Windsor, UK (PRWEB UK) 3 May 2012
Cogenta, the developer of Sccope, the best free personal shopping app, brings Sccope to Amazon.com Appstore for Android. Sccope can be found in the Shopping category or among most recent apps on the Appstore.
Following the growth of Amazon.com Appstore for Android, Sccope mobile shopping app is now available to Amazon's audience. Free to download, it will enrich Android user shopping experience and help them find out if they are getting a fair deal in-store or find the best available price online.
Sccope allows Android users to compare prices in an instant by:

Using a built-in barcode reader to compare prices at other retailers;
Searching by product code, name or brand;
Browsing a wide range of product categories.
Sccope app for Android provides information only from top high street and online retailers allowing savvy shoppers find the best available deal among commonly trusted sellers. Sccope works closely with retailers to bring best live offers and discount coupons meaning that users can expect even bigger savings if they use the app.
"We aim to bring our shopping app closer to consumers and ensure it is beneficial to the them wherever they shop", said Adrian Hobbs, Cogenta's CEO.
To download Sccope for Android, click here.
System requirements: Android 2.2 and above
Notes to Editors:
Sccope is a free personal shopping app available via Android, iPhone and BlackBerry smartphones. It compares pricing, stock information across the top high street and online retail stores, allowing its users find the best available price. With its consistently accurate information, Sccope delivers high quality information and enables users track their desired products.
Cogenta, the developer behind Sccope, maintains a unique view of the UK's retail market by providing in-depth coverage of top high street (multi-channel) retailers and online to ensure the experience is relevant to people wherever they shop.
Download Sccope on Amazon.com http:// Appstore;
Download Sccope on Google Play;
Visit http://www.sccope.com to learn more about Sccope.