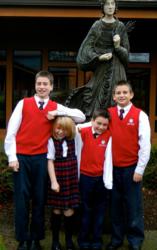 Bainbridge Island, WA (PRWEB) May 07, 2012
Due to the increase in enrollment of students from Jefferson County and in an effort to accommodate the recent inquires from the Olympic Peninsula, St. Cecilia Catholic School is exploring the possibility of offering round trip bus service with a stop near the Hood Canal Bridge.
The school currently provides round trip bus service from Central Market in Poulsbo, as well as a second stop at the Clearwater Casino.
Why are families from the Olympic Peninsula and surrounding areas choosing to send their children to St. Cecilia Catholic School?
Smaller class sizes allow for individual learning plans tailored for each student. Students enjoy a safe environment while exploring a curriculum that challenges their growing developmental needs.
Test Scores: SCCS students scored in the top 5% of the nation in 2011, according to the Composite Score results of the ITBS testing. The Composite Score is the total of all tests taken for that grade level. First Grade Composite Score was at 99%, Second Grade at 99%, Third Grade at 99%, Fourth Grade at 99%, Fifth Grade at 99%, Sixth Grade at 97%, Seventh Grade at 92%, and Eighth Grade at 99%.
The curriculum includes exposure to: Art, Music, and Technology. At this years Washington State Science and Engineering Fair (WSSEF) St. Cecilia students brought home more awards in the history of the school.
St. Cecilia Catholic School welcomes families who value education regardless; of religious background, gender, race, and color, national or ethnic origin. Providing tuition assistance for families with financial need. Serving a richly diverse population. Providing reasonable accommodations for students with disabilities.
For further information contact: Kelle Kitchel-Cooper | Kelle(at)RockFishGroup(dot)com
http://www.RockFishGroup.com
St. Cecilia Catholic School is located at:
1310 Madison Ave. N
Bainbridge Island, WA 98110
206-842-2017
Fax 206-842-6988
__title__ Media Placed by: The RockFish Group, Marketing | PR | Media | Sales | Development | Ingenuity Group] __title__ Media placed by| The RockFish Group, llc. ]