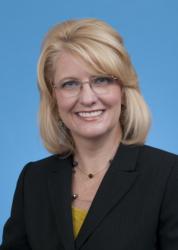 Melbourne, FL (PRWEB) January 03, 2013
Space Coast Credit Union is pleased to announce the hiring of Laura Richard as its new Vice President of Marketing. Richard began her post in November, 2012, bringing over 20 years of marketing experience to SCCU where she is responsible for overseeing the credit union's marketing and public relations efforts, including online and social media.
According to Richard, "one of our main focuses in 2013 will be expanding our brand awareness in our newly acquired markets in South Florida."
No stranger to the credit union world, Richard joins SCCU after over five years as the Marketing Manager with CFE Federal Credit Union where she oversaw and managed a marketing strategy for the $1.2 billion credit union. Prior to that, she served as the AVP Marketing Specialist for SunTrust Bank in Orlando, FL where she got her start in the banking industry.
In each of these roles, Richard has been responsible, if not integral, in promoting brand awareness, membership growth and retention, coordinating events and campaigns, and driving the overall marketing strategy for the business.
Richard was additionally a Project Manager for GMAC Global Relocation Services out of Detroit, MI, and has also owned her own business, Nationwide Apartment Resource, Inc. She is a business graduate of Michigan State University where she earned her B.A. degree and recently completed her master's in internet marketing through Full Sail University, garnering valedictorian honors.

Space Coast Credit Union was chartered in 1951 and is headquartered in Melbourne, Florida. The Credit Union serves over 376,000 members with assets of over $3 billion through a network of 56 branches and over 100 ATMs located throughout Florida and through its web site, SCCU.com. Space Coast Credit Union is open for membership to anyone who lives or works in the Florida counties it serves. Locations can be found at SCCU.com/locations.
###