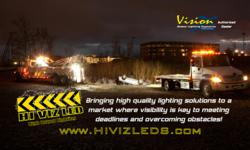 Installing a few high output scene lights is an easy way for operators to boost efficiency and promote safety in the workplace
Lillington, NC (PRWEB) March 21, 2012
Fire Departments, Municipalities, and Fleet owners be ready: there's a new company in town whose top priority is your safety and profitability! HiViz LED Lighting is the southeasts newest innovator in the LED scene and utility lighting industry. Their goal? To design lighting solutions that equip crews to work more efficiently at night.
The products represented by HiViz are designed to operate for more than 50,000 hours in the most grueling, rugged, workplace environments in the world. Want proof? Check out the youtube page at http://www.youtube.com/HiVizLEDs. The owner and head of product development, Sam Massa, takes the viewers through an array of tests ranging from full submersion in water to detonation of an explosive target under the light. The result are proof that the HiViz extremely bright LED Scene lighting solutions can, with out a doubt, stand up to the rigors of the industrial workplace. The videos, coupled with an industry leading limited Lifetime warranty on the lighting line are solid testaments to the path HiViz is forging in this arena.
Night equipment operators report that their #1 on-the-job concern is lack of visibility. Already challenging during the daytime, job challenges become major risks and often times take longer after dark. "Installing a few high output scene lights is an easy way for operators to boost efficiency and promote safety in the workplace," says Sam Massa; the entrepreneur behind the company. HiViz has a very broad line of lighting solutions to meet the needs of any workplace environment. They stock everything from easy to install interior compartment light strips to full sized LED tripod and brow mounted scene lights. Rather than simply warehouse product, their team specializes in helping educate customers on a range of possible solutions based on their individual needs.
HiViz debuted at last years' 2011 Florida Towing and Recovery Expo in Orlando, where thousands of professional wrecker operators and drivers alike gathered to check out the latest technologies geared toward their respective industries. At the expo, HiViz set up a booth featuring their fully equipped H1 Hummer show vehicle. The general market response was "Wow, these lights are really bright!" One operator enthusiastically spoke of how the lights would improve safety on an accident scene and allow him to do his job more effectively. "I drive a 50 ton rotator" He said. "These lights would bring us to a whole new level, [negating the need for] agencies and fire departments having to dispatch their power-plants."
For more information about what HiViz LED Lighting can do for you, visit http://www.hivizleds.com or call (703) 662-3458.