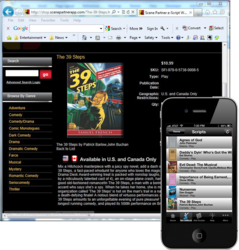 Norwalk, CT (PRWEB) April 25, 2013
The Scene Partner® e-Script™ library continues to grow, thanks to a new wave of titles from the world's premier play publisher and licensor Samuel French, Inc. The new release of titles stems from a 2012 agreement between Samuel French and mobile app developer MyTheaterApps.com. The agreement will make select Samuel French plays available digitally for use in the Scene Partner App.
Fifty new e-Scripts from Samuel French have now been added to the Scene Partner WebStore. Actors and theaters will be able to purchase Samuel French e-Scripts for use in memorizing lines and mounting future theatrical productions.
The first wave of Samuel French titles includes perennial favorites:
•THE 39 STEPS adapted by Patrick Barlow, from the novel by John Buchan and an original concept by Nobby Dimon and Simon Corble
•ONE FLEW OVER THE CUCKOO'S NEST by Dale Wasserman, from the novel by Ken Kesey
•EVIL DEAD: THE MUSICAL book and lyrics by George Reinblatt, music by Frank Cipolla, Christopher Bond, Melissa Morris, and George Reinblatt
•NUNSENSE book music and lyrics by Dan Goggin
•THE IMPORTANCE OF BEING EARNEST by Oscar Wilde
•AGNES OF GOD by John Pielmeier
Samuel French e-Script prices will range from $10.99 to $11.99 when purchased through the Scene Partner WebStore. Scene Partner customers will be able to find the titles in the company's online store at http://www.Shop.ScenePartnerApp.com. Actors will be able to purchase copies of Samuel French e-Scripts for their personal use, while theaters can purchase multiple copies for distribution to their casts through a secure, online theater library. More information is available at http://www.scenepartnerapp.com.
About Samuel French:
Samuel French was founded in 1830 and represents over 8,000 plays and musicals available for amateur and professional performance. In addition to its comprehensive theatre website http://www.samuelfrench.com, this 182-year-old force in theatre operates performing arts bookstores in Los Angeles and London, carrying a broad collection of play scripts and technical books on all aspects of theatre. The company can also be found on twitter @MrSamuelFrench and on facebook at facebook.com/SamuelFrenchInc
About MyTheaterApps.com:
MyTheaterApps.com is the developer of Scene Partner, an award-winning App for the iPhone, iPad and iPod Touch that helps actors learn their lines using their own scripts or by choosing from a growing collection of Publisher e-Scripts—the authorized Acting Editions designed specifically for use with Scene Partner. It merges text-to-speech software from the Acapela Group, voice recording and advanced algorithms to provide a unique and innovative tool for actors. At its launch Apple listed Scene Partner as "New and Noteworthy" on the home page of the App Store. Scene Partner has won multiple awards for design excellence and a 2011 Gold CQIA Innovation Prize.
Scene Partner has been featured in Variety, BACKSTAGE, Wall Street Journal Online, Stage Directions, Stage Magazine, SETC News and DRAMATICS Magazine:
"Scene Partner is incredibly intuitive and easy to use."
—BACKSTAGE
"...forget the highlighters, flash cards and driving friends and family crazy… get your download of SCENE PARTNER, and take preparing for that next role to a higher level."
—Stage Magazine
"…directors will love the program's library features."
—SETC News
PHOTOS AVAILABLE