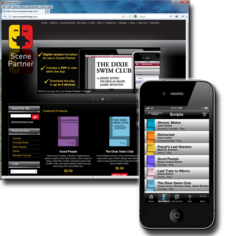 We are pleased to be recognized by the editors of Backstage as an essential new technology tool for actors

J. Kevin Smith, Owner – MyTheaterApps.com
Norwalk, CT (PRWEB) May 22, 2013
The editors of Backstage Magazine, a trusted resource for actors for more than 50 years, have chosen the Scene Partner App as one of six "Must Have" technology items for actors. The selection appeared in the May 9, 2013 edition of the magazine and on the backstage.com website, which has more than 1.4 Million unique visitors monthly. Scene Partner joined the following group of "Must Haves", picked as the best from products reviewed in prior editions:

Liz Caplin Studios Mobile Apps, which provide vocal training and exercises
Digital voice recorders from Roland and Tascam,
Headphones from Audio-Technica
Cubasis, a digital audio workstation app from Steinberg
iStabilizer Dolly, an iPhone camera dolly from iStabilizer
Scene Partner is a powerful iPhone®, iPad® and iPod Touch® app that helps actors with the age old problem of how to memorize lines. Scene Partner provides each customer with their own Private Library to store scripts. With Scene Partner, actors can learn lines using their own scripts or choose from a growing collection of Publisher e-Scripts—the authorized Acting Editions designed specifically for use with Scene Partner.
e-Scripts are currently available from the two largest theatrical script publishers, Samuel French and Dramatists Play Service. e-Script prices range from $9.99 to $11.99. Actors can purchase individual e-Scripts for their personal use. Theater companies can purchase multiple copies of Scene Partner e-Scripts and distribute them to their cast members through secure Theater Libraries.
An agreement has also been reached with the largest musical theater licensor, Music Theatre International, which will make the scripts of select MTI musicals available digitally on the Scene Partner WebStore for use as a rehearsal tool in the Scene Partner App. Theaters and actors will be able to access MTI e-Scripts to memorize lines while mounting officially licensed productions.
In addition, the Scene Partner Public Library is available to all Scene Partner customers and contains a growing list of Public Domain scripts including all of William Shakespeare's plays.
About MyTheaterApps.com:
MyTheaterApps.com is the developer of Scene Partner, an award-winning App for the iPhone, iPad and iPod Touch that helps actors learn their lines using their own scripts or by choosing from a growing collection of Publisher e-Scripts—the authorized Acting Editions designed specifically for use with Scene Partner. MyTheaterApps.com has e-Script agreements with Samuel French Inc., Dramatists Play Service and Music Theatre International. Scene Partner merges text-to-speech software from the Acapela Group, voice recording and advanced algorithms to provide a unique and innovative tool for actors. At its launch Apple listed Scene Partner as "New and Noteworthy" on the home page of the App Store. Scene Partner has won multiple awards for design excellence and a 2011 Gold CQIA Innovation Prize.
Scene Partner has been featured in Backstage, Variety,, Wall Street Journal Online, Stage Directions, Stage Magazine, SETC News and DRAMATICS Magazine.
PHOTOS AVAILABLE