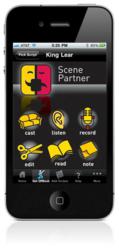 The wide array of features offered by CoreCommerce will ensure that Scene Partner customers have a great online experience."
J. Kevin Smith, Owner – MyTheaterApps.com
Norwalk, CT (PRWEB) March 29, 2012
MyTheaterApps.com announced today that it has chosen CoreCommerce, a leading e-commerce solution from Sum Effect Software, Inc., to host its new Scene Partner® WebStore. The decision sets the stage for MyTheaterApps.com to offer digital e-Scripts from Dramatists Play Service and other theatrical script publishers, via the Scene Partner WebStore.
Scene Partner is a powerful iPhone®, iPad® and iPod Touch® app that helps actors with the age-old problem of how to memorize lines. The new Scene Partner WebStore will make e-Scripts available to actors and theaters for use in learning lines and mounting future theatrical productions.
"The CoreCommerce model of Software As A Service (SAAS) is perfect for rapidly growing companies," said MyTheaterApps.com, Owner J. Kevin Smith. "As Scene Partner expands over the next 12 – 18 months to include titles from the world's premier theatrical publishers, the CoreCommerce solution can expand to meet our needs. The wide array of features offered by CoreCommerce will ensure that Scene Partner customers have a great online experience."
When the new WebStore is launched, theaters can use secure, password protected Theater Libraries to purchase publisher e-Scripts and distribute them to cast members, just as they do with print copies today. The Scene Partner service also provides actors with their own Private Library to purchase, store and download scripts. In addition, the Scene Partner Public Library is available to all Scene Partner customers from the Scene Partner App and contains a growing list of Public Domain scripts including all of William Shakespeare's plays.
The Scene Partner WebStore launch is projected for May 2012.
About MyTheaterApps.com:
MyTheaterApps.com is the developer of Scene Partner, an award-winning App for the iPhone, iPad and iPod Touch that helps actors learn their lines. It merges text-to-speech software from the Acapela Group, voice recording and advanced algorithms to provide a unique and innovative tool for actors. Apple listed it as "New and Noteworthy" on the home page of the App Store. It was recently featured in Variety, STAGE Magazine and Stage Directions Magazine. Scene Partner has won awards for design excellence from Graphic Design USA, American Graphic Design & Advertising and the Advertising Club of Westchester. Scene Partner is also the winner of a 2011 Gold CQIA Innovation Prize. In December, MyTheaterApps.com announced a worldwide agreement with Dramatists Play Service to sell digital e-Scripts for use in the Scene Partner App.
Photos available.