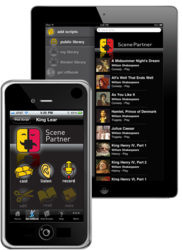 "Scene Partner 2.0 sets the stage for the next theatrical innovation – digital
e-Scripts from Scene Partner."
J. Kevin Smith, Owner – MyTheaterApps.com
Norwalk, CT (PRWEB) April 15, 2012
The stage is set for a new way to learn lines using digital e-Scripts from Scene Partner®. New Scene Partner 2.0 gives actors the tools they need to work with these digital versions of scripts from the world's premier theatrical publishers. The first of these e-Scripts will be offered by leading play publisher Dramatists Play Service. The first selection of titles is projected to be available in May 2012.
MyTheaterApps.com, a developer of mobile applications for the theater community, announced that Scene Partner 2.0 is available on the AppStore beginning today. An award winning app for actors, Scene Partner is a powerful iPhone®, iPad® and iPod Touch® app that helps actors solve the age-old problem of how to memorize lines.
Scene Partner 2.0 also has the following new features:

New Scene Partner 2.0 combines the previous Lite and Paid versions of Scene Partner into one App for greater convenience.
Scene Partner is now free and includes all the Features of the former Scene Partner Lite, plus the ability to add the Premium Paid Features of the former Full Version individually or in a convenient Feature Pack from within the app. Scene Partner Lite has been discontinued.
The size of the App has been dramatically reduced. Scene Partner can now be downloaded over cellular networks. This also makes it easier for actors to download updates quickly as new features are added in the future.
Customers who have purchased the Full Version of Scene Partner can update to new Scene Partner 2.0 free beginning today. Scene Partner Lite customers can download the new version free by visiting the App Store and searching for keyword "Scene Partner."