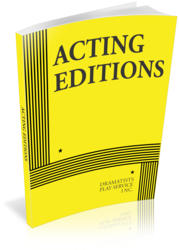 Providing instant access to the outstanding scripts in the Play Service catalog will be a boon for actors and theaters everywhere.

J. Kevin Smith, Owner
MyTheaterApps.com
New York, NY (PRWEB) December 15, 2011
"e-Scripts" will soon be easier to come by, thanks to an agreement between leading play publisher and licensor Dramatists Play Service, Inc. and mobile app developer MyTheaterApps.com. The worldwide agreement will make Play Service scripts available to actors and theaters for use in memorizing lines and mounting future theatrical productions.
Dramatists Play Service scripts will be available for purchase through the Scene Partner website in stages during the coming months. The first wave of titles is tentatively scheduled for release in early 2012. According to Stephen Sultan, President of DPS, "Scene Partner's impressive and innovative features to help actors learn their lines make it a great rehearsal tool. We're pleased to enter into this agreement with Scene Partner to bring DPS plays to the iPhone, iPad and iPod devices."
J. Kevin Smith, owner of MyTheaterApps.com and the developer of Scene Partner® stated, "Providing instant access to the outstanding scripts in the Play Service catalog will be a boon for actors and theaters everywhere." Scene Partner is a powerful iPhone®, iPad® and iPod Touch® app that helps actors with the age-old problem of how to memorize lines.
The price for DPS e-Scripts will range from $9.99 to $10.99 when purchased through the Scene Partner website. Scene Partner customers will be able to find the titles in the company's online store at http://www.ScenePartnerApp.com. The agreement between Dramatists Play Service and MyTheaterApps.com was negotiated by Bill Fitzgerald, an entertainment attorney with national law firm Wilson Elser.
About Dramatists Play Service:
For seventy-five years Dramatists Play Service, Inc. has provided the finest plays by both established writers and new playwrights of exceptional promise. Formed in 1936 by a number of prominent playwrights and theatre agents, Dramatists Play Service, Inc. was created to foster opportunity and provide support for playwrights by publishing acting editions of their plays and handling the nonprofessional and professional leasing rights to these works. Dramatists Play Service, Inc. has grown steadily to become one of the premier play-licensing agencies in the English-speaking theatre. Offering an extensive list of titles, including a preponderance of the most significant American plays of the past half-century, Dramatists Play Service, Inc. works with thousands of theatres and supports the theatre's vital position in contemporary life.
About MyTheaterApps.com:
MyTheaterApps.com is the developer of Scene Partner, an award-winning App for the iPhone, iPad and iPod Touch that helps actors learn their lines. It merges text-to-speech software from the Acapela Group, voice recording and advanced algorithms to provide a unique and innovative tool for actors. It was released in early November 2010. Within the first week, Apple listed it as "New and Noteworthy" on the App Store, The Wall Street Journal ran a story about the app in its App Watch column, and Tom Cruise, the American Theater Wing (producers of the Tony Awards) and the Public Theater in NYC all tweeted about Scene Partner to their followers. Scene Partner has won awards for design excellence from Graphic Design USA, American Graphic Design & Advertising and the Advertising Club of Westchester. Scene Partner is also the winner of a 2011 Gold CQIA Innovation Prize.
PHOTOS AVAILABLE
A media kit is available at https://www.ScenePartnerApp.com/ScenePartnerMediaKit.pdf
###