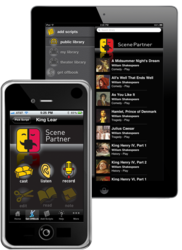 We're pleased to offer this special savings opportunity to actors everywhere who face the daily challenge of learning lines

J. Kevin Smith, Owner – MyTheaterApps.com
Norwalk, CT (PRWEB) October 25, 2012
Two years ago, the Scene Partner® App launched on Apple's App Store and it has been growing by leaps and bounds ever since. To celebrate the end of its second year on the App Store, MyTheaterApps.com announces a Limited Time Birthday Sale with savings of up to 50%. Scene Partner is a powerful iPhone®, iPad® and iPod Touch® app that helps actors with the age old problem of how to memorize lines.
During this Limited Time Offer, the App's Script Conversions, normally priced at $1.99, will be on sale for only $0.99. Previously a per download fee, Scene Partner Script Conversions became a one-time charge per script in August with the release of Scene Partner 2.1. Converted scripts can now be used on up to 4 devices at no additional cost. This 50% off sale applies to all Customer and Public Library scripts. Publisher e-Scripts on the Scene Partner WebStore are not included in the Birthday Sale.
Premium Features of the App will also be on sale for a Limited Time. The Scene Partner Feature Pack, which includes the Edit, Read and Note Features, and normally sells for $4.99, will be on sale for only $2.99, a 40% discount off of the regular price. The individual Premium Features and all Acapela Voices will also be available for $0.99 each, a discount of 50%.
This Limited Time Birthday Celebration begins today and will last through Sunday, November 4th at Midnight EDT. Discounts may vary depending on the local iTunes App Store.
J. Kevin Smith, Owner of MyTheaterApps.com stated, "We are excited about achieving this two year milestone on the App Store. To celebrate, we're pleased to offer this special savings opportunity to actors everywhere who face the daily challenge of how to learn lines."
The Scene Partner service offers a unique new tool for actors. The website provides each customer with their own Private Library to store scripts. In addition, the Scene Partner Public Library, is available to all Scene Partner customers from the Scene Partner App and contains a growing list of Public Domain scripts including all of William Shakespeare's plays.
About MyTheaterApps.com:
MyTheaterApps.com is the developer of Scene Partner, an award-winning App for the iPhone, iPad and iPod Touch that helps actors learn their lines by using either their own scripts from their Private Library, scripts from the Scene Partner Public Library or new e-Scripts from the Scene Partner WebStore—a growing collection of authorized Acting Editions designed specifically for use with Scene Partner.
It merges text-to-speech software from the Acapela Group, voice recording and advanced algorithms to provide a unique and innovative tool for actors. At its launch Apple listed Scene Partner as "New and Noteworthy" on the home page of the App Store.
Scene Partner has been featured in Variety, BACKSTAGE, Wall Street Journal Online, Stage Directions, Stage Magazine, SETC News and DRAMATICS Magazine:
"Scene Partner is incredibly intuitive and easy to use."
—BACKSTAGE
"...forget the highlighters, flash cards and driving friends and family crazy… get your download of SCENE PARTNER, and take preparing for that next role to a higher level."
—Stage Magazine
"…directors will love the program's library features."
—SETC News
PHOTOS AVAILABLE