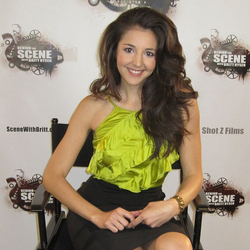 "My goal with the PRISM episode is to bring attention to the award ceremony that airs this fall. It was a great night for humanity, and fans of these films and TV series should know about it." --Britt Hysen
Burbank, CA (PRWEB) June 2, 2010
When Britt Hysen was asked to bring the crew of 'Scene With Britt' to the Beverly Hills Hotel for the 14TH annual PRISM Awards, the 21 year old 'Mad Men' actress turn webisode host/producer jumped at the opportunity to help promote the distinctive Hollywood honor. Presented by the Entertainment Industries Council, the PRISMs are awarded each year to those in the creative community who best depict addiction and mental illness within their storylines, and to actors who accurately portray their character's affliction. 2010 TV nominees included Breaking Bad, Nurse Jackie, Grey's Anatomy, House, M.D., Monk, Sober House, Intervention, and Celebrity Rehab among others; and Made for TV and Feature films including Crazy Heart, The Soloist, Brothers, The Natalee Holloway Story, and Prayers for Bobby. "The Entertainment Industries Council was formed 27 years ago to bring the power of the Entertainment Industry to bear on health and social issues," declared Brian Dyak, EIC President, CEO & Co-founder. "The PRISM Awards are actually that pat on the back for the writers, the producers, the directors, and the talent that have done stories about substance abuse and mental health."
Hysen said she was all too happy to trade the red carpet and step and repeat for the noisy and chaotic press line as she documented the humanity radiating from her industry. It was a star-studded evening that combined the best of two millenniums with Gary Marshall, Larry Hagman, and Barbara Eden mixed with 'Crazy Heart' producer, Judy Cairo, 'Breaking Bad' producer, Vince Gilligan, actors, Kevin McKidd, 'Grey's Anatomy' and Pauley Perrette, 'NCIS', and reality host, Dr. Drew Pinsky, 'Celebrity Rehab'. "When you get a celebrity involved in anything, it raises the attention that much more,' proclaimed Nancy O'Dell, 'Access Hollywood' and PRISM Awards Hostess. "We know how powerful Hollywood can be because people are interested in being entertained, so why not send a message as well." Phil Wilson, President of the Black Aids Institute, commented on the significance of the PRISM Awards as it related to the creative community, "It really is about individuals taking individual initiatives…and what better way to do that than through our entertainment and storytelling."
As an actress, Hysen was most interested in how other actors perceived the PRISM Award and what it would mean to them to win one. Many compared it to receiving an Oscar in that the actor is being honored for their convincing performances. "I think it's probably one of the highest honors you can get," stated actress Shantel VanSanten, 'One Tree Hill'. It's not that--oh you did an amazing job, it's--you did the most realistic portrayal of something that we could find." Steve Wilkos, host of the Steve Wilkos Show added, "The most uplifting thing is when you can actually come into a stranger's life and make an impact." Hysen hopes to achieve similar results with her coverage of this year's awards. "The PRISMs aren't well known by the general public, and yet the award is so relevant because it's all about making a social impact," she said. "Watching films that accurately depict addiction and mental illness gives viewers relatable life challenges that they can compare with their own experiences." Hysen continued, "You have to honor the artists that do it well, and invite their audience and fans to celebrate with them."
Hysen puts a fresh spin on the PRISMs by blending information with visual effects, music, and celebrity interviews in a high energy, three minute piece. Straight from a millennial's prospective, she produces and edits each episode to fit the habits and communication devices of her generation "People my age want their information quick and streamlined. If something catches their attention, they'll pursue it further." Hysen continued, "My goal with the PRISM episode is to bring attention to the award ceremony that airs this fall. It was a great night for humanity, and fans of these films and TV series should know about it."
'Scene with Britt' is an educational web series that explores the art in everyday life. Presented in a digital magazine format, episodes highlight the professions, industries, and technologies that comprise the current art culture. To view 'Scene with Britt', read Britt's blog, or listen to her podcasts visit SceneWithBritt.com.
###