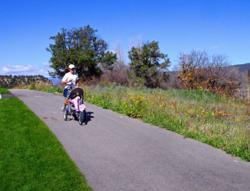 These easy paved paths are as suitable for moms with strollers as they are for occasional bicyclists ranging in age from youngsters to senior citizens
Western Colorado (PRWEB) May 15, 2013
Not every cyclist wants the adrenaline rush of barreling down a hair-raising singletrack, many visitors to Western Colorado prefer their vacation with no rush at all. That's what got the chambers and tourism offices of Aspen, Snowmass Village, Basalt, Carbondale, Glenwood Springs and Rifle to join forces and create Scenic Pathways of Western Colorado, a new organization that promotes the region's abundance of paved, gently sloped leisure trails.
"Scenic Pathways of Western Colorado is an exciting opportunity to promote bike-pedestrian recreation in the Pitkin and Garfield County region as a whole," said Vicky Nash, spokesperson for the group and owner of Resort Trends, Inc., a media communications firm located in Glenwood Springs. "These easy paved paths are as suitable for moms with strollers as they are for occasional bicyclists ranging in age from youngsters to senior citizens."
The group's new Lay Some Tread website highlights trails throughout the Roaring Fork Valley, the Crystal River Valley and along the Colorado River Corridor to the Garfield County line. Visitors can find out more about the various sections which include the Rio Grande Trail from Aspen through Basalt to Glenwood Springs, Brush Creek Trail in Snowmass Village, Crystal Valley Trail in Carbondale, Glenwood Canyon Recreation Trail in Glenwood Springs and Rifle Creek Trail in Rifle. In addition to the Lay Some Tread website, trail maps are also available at the participating chambers and bike rental shops in the area.
"All of the trails are paved, follow rivers or creeks, have small elevation changes for easy riding or walking and feature jaw-dropping scenery," said Nash. Despite their location in one of the most mountainous regions of Colorado, the negligible incline of these trails is due in part to the railroads that once chugged up and down the Roaring Fork Valley. The 42-mile Rio Grande Trail from Aspen to Glenwood Springs, for instance, follows the former rail corridor of the Denver and Rio Grande Western (D&RGW).
For bikers who want to ride the entire distance between Aspen and Glenwood Springs, the Roaring Fork Transit Authority's (RFTA) Bike Express is the way to go. Operating weekends from June through September, the Bike Express is outfitted to carry up to 14 bikes. From stops beginning in Glenwood Springs, visitors can ride to Aspen and disembark at Ruby Park where it's easy to connect to the Rio Grande trailhead for miles of breathtaking downhill cruising. See http://www.rfta.com/bikesonbuses.html for rates and schedules.
Spoke trails that intersect with the Rio Grande in Snowmass Village, Carbondale and Glenwood Springs enable riders to explore even further. Although not connected to the Rio Grande, the Rifle Creek Trail is considered a backbone trail and connects cyclists and walkers with three of Rifle's main parks.
The Scenic Pathways of Western Colorado project was inspired by the Regional Trails, Biking and Walking Summit held in Glenwood Springs last April. The initiative started with the non-profit group Clean Energy Economy for the Region (CLEER) based in Carbondale, Colorado. One of CLEER's missions is to promote the health and environmental and economic benefits of increased trail use. After the Summit, a subsidiary organization was formed called the Bike-Ped Western Colorado Coalition and from there Scenic Pathways of Western Colorado was created to promote the interconnected recreational trail systems located throughout Garfield and Pitkin counties. The project is funded by all six area chambers with a matching grant from the Colorado Tourism Office.
To find out more about Scenic Pathways of Western Colorado and the leisure biking and walking trails in Pitkin and Garfield counties, please visit http://laysometread.com/.

Lay Some Tread maps are available at all area visitor information centers:
Aspen Chamber Resort Association
425 Rio Grande Place
Aspen, CO 81611
970-925-1940
info(at)aspenchamber(dot)org
www(dot)aspenchamber(dot)org
Basalt Chamber
101 Midland Ave in the red caboose
Basalt, CO 81621
970-927-4031
info(at)basaltchamber(dot)com
www(dot)basaltchamber(dot)com
Carbondale Chamber of Commerce
520 S. Third Street, Suite 3
Carbondale, CO 81623
970-963-1890
chamber(at)carbondale(dot)com
www(dot)carbondale(dot)com
Glenwood Springs Visitor Center
802 Grand Avenue
Glenwood Springs, CO 81601
888-445-3696
info(at)glenwoodchamber(dot)com
www(dot)visitglenwood(dot)com
Rifle Area Chamber of Commerce
200 Lions Park Circle
Rifle, Colorado 81650
970-625-2085
mail(at)riflechamber(dot)com
www(dot)riflechamber(dot)com
Snowmass Tourism
Guest Services & Information
2909 Brush Creek Road
Snowmass Village, CO 81615
970-922-2233
guestservices(at)snowmasstourism(dot)com
www(dot)snowmasstourism(dot)com
Media Contact:
Vicky Nash
Resort Trends, Inc. – media communications for the travel & tourism industry
970-948-4923
Vicky(at)ResortTrends(dot)com