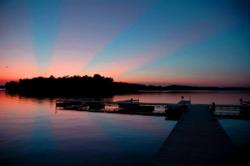 Experience breathtaking views of Balsam Lake, fall foliage and wine in the St. Croix Valley, and old-world European decor in Apple Valley.
Minneapolis, Minnesota (PRWEB) October 12, 2011
This is a route that combines fantastic fall scenery with wonderful food, wine and activities - all within about an hour of the Twin Cities. It's hard to beat the fall colors along the St. Croix River between Minnesota and Wisconsin, making it an ideal place for some of the best sightseeing in the Midwest.
The day-trip begins about 13 miles south of the Minneapolis-St. Paul airport at Enjoy! in Apple Valley, MN. It then cruises along scenic Minnesota State Highway I-95 northeast through Stillwater, St. Croix Falls, Taylor Falls, ending at Paradise Landing in Balsam Lake, Wisconsin. If time is tight, it's very easy to split the suggested trip into multiple outings and spend more time enjoying the unique stops along the way.
Start the day with an early lunch at Enjoy! Restaurant (11am-3pm M-S) or Sunday brunch (10am-2pm Sunday). For out of town visitors, this is a great location near the airport. They have spectacular outdoor seating and a large menu selection that includes steak, salads, chops, fish, burgers, pasta and pizza. Enjoy! was recently selected "Best Patio in The Twin Cities" by Pioneer Press readers, and for good reason. The patio is large but cozy and wraps around the entire back of the restaurant. It has two stone fireplaces and seating that overlooks a city park, pond, gazebos and walking paths. More attractions in the area include the Minnesota Zoo and Mall of America - perfect entertainment for adults and families with children.
From Enjoy!, take Cedar (77 North) past the Mall of America and choose one of these 3 exits headed east - 494E, 94E, or Highway 36 - to reach Highway 95 and the historic town of Stillwater, MN. In the town the streets are lined with Victorian style homes, antiques shops and bookstores nestled within the bluffs along the river.
Out of Stillwater continue North on I-95 through the town called Marine on St. Croix and William O'Brien State Park. There is a fantastic hiking loop that begins here and winds along the St. Croix and Lake Alice. If you continue about 17 miles further north, there are many more trails in Taylors Falls. Take I-95 until you reach the intersection of Highway 8, then turn right. Note: Before reaching highway 8, look for a unique and unexpected landmark called Franconia Sculpture Garden. It's hard to miss the large free-standing art structures.)
Upon reaching Taylors Falls, before crossing the bridge into Wisconsin, pull into Minnesota's Interstate Park, a breathtaking feat of nature. There are trails along the river and views of stone arches, rock slabs and large potholes created over 10,000 years ago. The area is a playground for rock climbers, canoeists, hikers, boaters, mountain bikers, skiers and fall leaf-seekers. Here you can gas up and grab an A&W Rootbeer float at the drive in.
Next head to sip wine at a stone chateau located directly off Highway I, about 10 miles Northeast in St. Croix Falls, Wisconsin. Along Highway I, there are shops, trails, and sprawling scenic views along the riverside. The many rolling hills have foliage that is painted in a stunning palette of fall colors. At The Chateau St. Croix Winery, set up a tasting and tour the more than 65 sprawling acres that include a carriage house, stables, formal gardens, picnic area and a fishing pond. After a wine-tasting at the Chateau, hop back onto Highway 8 and head about 15 miles east to the final destination - Paradise Landing in Balsam Lake, Wisconsin.
Paradise Landing is a lodge-like restaurant with spectacular lake views, serving home-cooked favorite foods. Guests enjoy boating to the restaurant to play pool and watch games in the bar – an ideal place to have a Bloody Mary and watch the Vikings and Packers face-off on Sunday, Oct. 23rd. Both Enjoy! and Paradise Landing boast two of the finest outdoor dining areas in the Midwest with seating for over 100 people. The patio at Paradise is ideal for dining, relaxing by the impressive 20-foot diameter fire pit, watching Bald Eagles soar overhead, and simply soaking up the beauty of the mid-west fall colors.
In many parts of Wisconsin colors remain strong until mid-October and tend to fall fast after hitting their peak. Fortunately, this suggested drive is extremely beautiful, unique and entertaining year-round. For specific driving directions and more information on the properties mentioned, click on the links below.
More information found here for Paradise Landing and Enjoy! Restaurant http://www.paradiselandingwi.com
http://www.enjoy-dining.com
Fall Foliage in MN and WI Resources
MN Fall Foliage Color Index Click Here
WI Fall Foliage Color Index Click Here
###