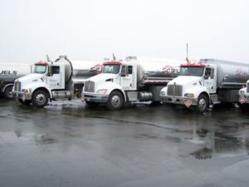 Price of oil is so high right now that people don't want to spend the money until they absolutely have to. We understand this and strive to keep the cost of oil as low as possible for our customers. B. Kaes ~ Operations Manager SC Fuels
Seattle, WA (PRWEB) January 30, 2012
SC Fuels has been in business for over 75 years. They specialize in delivering home heating oil to the communities of Seattle, Tacoma, Bremerton, Everett and the surrounding neighborhoods, SC Fuels has committed itself to putting the priorities of its customers before its own.
To say thank you to the communities they serve SC Fuels wanted to give back to the community that would truly benefit their customers. They decided the best way to give back was to giveaway 500 free gallons of heating oil. With oil prices so high and the Northwest, experiencing a brutal winter SC Fuels knew customers would appreciate assistance in keeping their homes and families heated during the cold winter months in Washington.
To date the home heating oil giveaway has been met with very positive reactions, one customer said, "Unlike other oil companies that continue to raise prices and lock people into restrictive contracts regarding service, SC Fuels is going above and beyond the necessary customer service and delivery and giving back to the community. I think that speaks volumes to the nature of this company."
So far, about 1300 entries have been received and two lucky winners have each received 100 gallons of free home heating oil delivered to their homes! December's winner was Cindy W. of Olympia and December's winner was Marci O. of Port Orchard. Both winners were very happy to find out they had won. The next drawing will be at the end of January.
Besides giving back to the community with the giveaway SC Fuels also offers many other services to help its customers through the cold winter months. A very popular program they offer is called auto-fill. This is where SC Fuels monitors the customer's consumption and fuel level and makes timely deliveries based on the weather in the surrounding communities. This way you can rest assured that you won't ever forget about having to order fuel when that sudden winter storm hits.
Auto-fill service is the best way to order home heating oil. With the latest winter storm to hit the Pacific Northwest, SC Fuels saw a lot of customers wait until the last minute to order oil which left them in the cold, while the company worked them into their delivery schedule. Brian Kaes is the operations manager for SC Fuels and he said in response to the latest winter weather conditions in Washington State,
"We saw a lot of customers who waited until the very last minute to order their oil last week during the cold and snow. It is understandable because the price of oil is so high right now that people don't want to spend the money until they absolutely have to. We understand this and strive to keep the cost of oil as low as possible for our customers. When people call in last minute for an order we have to try to work them into the existing delivery schedule. Auto-fill customers never have to worry the amount of fuel they have or the impending winter storm, they know that we monitor their heating oil level and ensure that their home remains warm during the winter. Our goal is to treat out auto-fill customers' homes as if they were our own.
SC Fuels is a customer focused company that puts its customers' first. They offer many petroleum products other than home heating oil including stove oil, biodiesel, fuel oil additives, water dispersant and furnace products. Visit their website for more information.
# # #