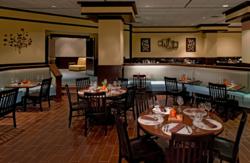 Fresh 1800 has created a fall menu that delivers fresh, seasonal offerings from their gardens and local farmers to the diner's table.
Schaumburg, IL (PRWEB) October 13, 2011
Fresh 1800, located in the Hyatt Regency Woodfield Schaumburg, has created a fall menu that delivers fresh, seasonal offerings from their gardens and local farmers to the diner's table.
In 2010, the cultivation of an herb and a vegetable garden on the grounds of the Hyatt set the foundation for the Schaumburg restaurant's fresh concept and it has continued to grow. In addition to the gardens, Fresh 1800 purchases from local farms, whenever possible.
Executive Chef Hagop Hagopian, recognized as a leading chef by Les Amis Escoffier Committee, is fully committed to fresh seasonal ingredients. "All food is perishable. The things that make it last longer aren't good for us. The flavor profile is made by people, not by food manufacturing companies," said Chef Hagopian. The chef directs his team with three critical principles in mind; the use of fresh ingredients, precise execution and food presentation. "Food is the focal point of every social event. People like food and it has to taste good. If we buy a bag of mixed greens we don't control the flavor of the salad. When we create our own mix, we develop the unique flavor profile."
Chef Hagopian's fall menu includes a myriad of items harvested from Fresh 1800's gardens and local farmers. The chef purchases produce from Nichols Farm and Orchard in Marengo, Illinois, and proteins from Gunthorp Farms in LaGrange, Indiana. Both farms are focused on natural products, supporting the chef's goal of delivering fresh ingredients to the table.
Some of the items that emerge on Fresh 1800's fall menu this season are apples, root vegetables and beets. The offerings vary in size and there is a wide variety in order to satisfy all palates. Featured selections from Fresh 1800's menu are roasted beets and cauliflower with cauliflower saffron puree, paired with scallops; and braised lamb shoulder with spaetzle, carrots, brussel sprouts and roasted onions.
About Hyatt Regency Woodfield Schaumburg
Experience the incomparable service you deserve at the Hyatt Regency Woodfield-Schaumburg. The Hyatt is superbly positioned steps from Woodfield Shopping Center with easy access to downtown Chicago, O'Hare, local business and area attractions. The hotel offers 468 guest rooms and suites that feature earth tones to enhance creativity, productivity, and energy. The guest rooms also offer many hi-tech features including 37- inch flat panel television, iHome docking station, wireless Internet access and in room safes. Ideal for meetings and events the hotel offers 30,000 square feet of meeting and event space. Enhance your mind body and soul in our Stay Fit fitness center with lap pool, cardiovascular equipment and free weights or relax in the seasonal outdoor pool and hot tub. Enjoy FRESH 1800 restaurant where Chef Hagop Hagopian's entrees are infused with seasonal herbs and vegetables grown in his on-site garden. Hyatt Regency Woodfield Schaumburg's unparalleled service, upscale amenities and dining venues create new and memorable hospitality experiences.
About Fresh 1800
Fresh 1800 is located in The Hyatt Regency Woodfield Schaumburg in the open atrium lobby of the hotel at 1800 East Golf Road, Schaumburg, in the heart of Chicago's Northern Suburban Business District. Under the leadership of Executive Chef Hagop Hagopian, whose work has been featured in magazines like Bon Appetit and publications like the Chicago Sun-Times, Fresh 1800, showcases the latest in culinary trends, inspired by classic French cuisine. The foods are simply, yet elegantly presented, using farm fresh ingredients whenever possible. As part of an extensive hotel renovation, Chef Hagopian's outdoor herb garden features fresh herbs to be picked for staff.
###