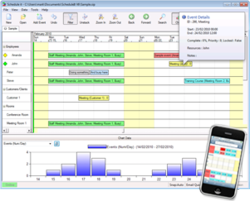 Siemens business has seen huge improvements since we've implemented this.
(PRWEB UK) 27 October 2011
Most drag and drop scheduling solutions can help with rapid planning and modifications of allocated work. With checks for double bookings, over allocation of resources, and the necessary skills and requirements are present, planning errors can be highlighted and eliminated. These are the most basic requirements any scheduling solution should offer.
Schedule it, a leading provider of desktop and online scheduling software, today announced it has launched the next version of its software giving customers unparalleled ease of use in an enterprise-grade scheduling solution.
Using any scheduling software can help you achieve savings. Having the ability to download and try a solution at no cost and with no commitment is not easy. Schedule it offer their software as a free download so you can instantly see how you can achieve a tangible improvement to your planning efficiency. You can download it now from their website http://www.scheduleit.co.uk
Some of the worlds most successful companies including Microsoft, IBM, Shell, Fujitsu, Siemens and L-3 Communications trust their data and resource planning with Schedule it. Talking about Schedule it, Siemens said "The program is working like a dream for us. It has helped us to massively improve the necessary record keeping as well as all the planning. The business has seen huge improvements since we've implemented this."
With smartphones and tablet devices, workers are "always on" and have become reliant on mobile technology. In addition to the desktop software Schedule it's new cloud storage, email alerts and mobile apps will increase employee and manager productivity while connecting people any place at any time, empowering the always-on workforce with real-time mobile scheduling capabilities.
For more information and to download the software, and try their online service, completely free visit http://www.scheduleit.co.uk
###