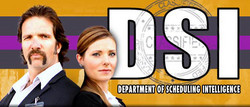 Schedulicity's new D.S.I. asks small businesses if they would rather 'shoot it' or 'shrine it'.
Bozeman, MT (PRWEB) October 28, 2010
Schedulicity, is tapping the collective creativity of thousands of passionate small business owners who use the online appointment scheduling service in a new internet promotion titled, "D.S.I.", (Department of Scheduling Intelligence) The online contest, inspired by true stories of Schedulicity customers, chronicles the investigations of a D.S.I. SWAT team who make scheduling more efficient for small business owners, via Schedulicity's easy-to-use online scheduling service.
The contest, as seen on the company's Facebook page, focuses on the demise and disposal of paper appointment books in favor of Schedulicity's service. The D.S.I. contest allows customers and business owners to vote on whether they choose to 'Shoot' or 'Shrine' their paper scheduling books, a quickly growing and outdated form of appointment making. The contest lasts through the end of the year, and one lucky voter will win a VIP weekend trip to Las Vegas.
Schedulicity recently pre-screened the D.S.I. webisode at a continuing education training hosted by Cosmetologists Chicago and America's Beauty Show. "Our audience found the webisode entertaining as well as informative," said Cosmetologists Chicago CEO, Paul Dykstra. "Our members continually seek innovative ways to become more efficient in their daily operations, marketing and client service. Education such as provided by Schedulicity is one of the benefits of their membership as well as why they come to America's Beauty Show each year."
On Facebook, businesses and clients alike are encouraged to vote after watching the short D.S.I. webisode and to select the demise of choice. Doing so enters them to win a VIP all-expense paid trip to Las Vegas including three nights at the Mandalay Bay Hotel and Casino.
"This video is a representation of thousands of conversations with business owners who, until now, have had no real solutions for online scheduling coupled with social media and digital marketing, but need it to serve clients' needs and grow their business." said Michael Wilson, Schedulicity's director of new media. "The response has clearly hit several emotional triggers with our community of users which range from salons to accounting to massage therapists, photographers and more."
While fictional Agents, Rhyno and Flair, of the Department of Scheduling Intelligence rescue small business owners from out-dated technology, the real business of the web 2.0 start-up is delivering easy-to-use tools to efficiently manage business, promote services and fill their appointment books via the web. Schedulicity is the first in the industry to combines the power of search, mobility, email marketing and social networking in an integrated software-as-a-service solution for small business.
The opportunity to vote and enter to win a trip to Las Vegas runs through December 31st, 2010. The webisode, voting and sweepstakes rules can be found at http://www.facebook.com/schedulicity.
About Schedulicity
Businesses in all 50 states – in more than 1,500 US cities – use Schedulicity to save time, attract new customers and offer a better service experience to clients. The service is as affordable as $19 a month and – more importantly – free for the hundreds of thousands of consumers who can make appointments online in seconds with their favorite professionals – including beauty salons, spas, music teachers, dentists, plumbers, electricians, lawyers and even dog groomers. Schedulicity currently puts thousands of business owner's calendars online, via the web, Facebook, and mobile so that new and repeat clients can find an appointment that works for them – anytime, day or night. In total, current Schedulicity businesses are booking millions of dollars of appointments every week through the service. With Schedulicity, business owners save hours a day while simultaneously attracting more appointments – even while they sleep or spend valuable time with family and friends.
# # #