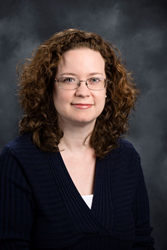 "I look forward to taking on the challenges my new role presents. I know I can count on every member of our team to carry out our ministry of serving the poor, the sick, and the dying with compassion and excellent care."
Riverdale, NY (PRWEB) October 20, 2014
Bon Secours New York Health System's Schervier Nursing Care Center, specializing in long-term and rehabilitation care in the Riverdale section of The Bronx, has named Andrea Weaver, RN, Director of Risk Management, Quality Improvement, and Corporate Responsibility. Weaver assumes the role previously held by Joanne Smith, RN.
Weaver began her tenure at Bon Secours in April of 2012. She served as Intake Coordinator/RN for Schervier Home Care and most recently as Service Excellence Coordinator for Schervier Nursing Care Center. Before joining Bon Secours, Weaver worked as a public health nurse for Visiting Nurse Service of New York, and before that in the Adult Emergency Department of New York Presbyterian Hospital.
Weaver's new position entails overall responsibility for the risk prevention and quality management functions at Bon Secours New York, including the review, coordination, and implementation of programs to ensure regulatory compliance. Weaver will serve as a resource on risk, quality assurance, corporate compliance, performance improvement, and service excellence matters. She is a member of the executive team, reporting to Carlos G. Beato, chief executive officer, Bon Secours New York. "Since joining our team, Andrea has distinguished herself as someone who can always be counted on to deliver," said Beato. "She is an excellent problem solver, dedicated to serving the customer, and constantly improving the quality of our care."
"I look forward to taking on the challenges my new role presents," said Weaver. "I know I can count on every member of our team to carry out our ministry of serving the poor, the sick, and the dying with compassion and excellent care."
Weaver has a degree in health sciences from St. Peter's University, Jersey City, NJ, and she is a registered nurse. She graduated from the Holy Name Medical Center School of Nursing in Teaneck, NJ. Originally from the Washington Heights section of Manhattan, she lives in the Riverdale section of the Bronx with her husband and two sons.
About Bon Secours New York Health System
Bon Secours New York Health System (BSNY) is a not-for-profit, Catholic healthcare system committed to providing a range of compassionate health care services in the New York Metro area. BSNY is comprised of Schervier Nursing Care Center, a 364-bed long-term nursing facility providing skilled nursing care, rehabilitation services, palliative care, and care in a secure environment for those with Alzheimer's and other cognitive impairments. In addition, short-term rehabilitation and cardio-pulmonary rehabilitation programs provide services for those recovering from illness and injury and returning to their home and community. Good Samaritan Homecare provides comprehensive medically case-managed home care to residents of the Bronx, Manhattan, Westchester, Rockland and Orange Counties. The Schervier Apartments offer 154 units of federally-subsidized housing for independent living to seniors and heads of household with disabilities. BSNY Healthy Communities is sponsored by the mission fund of Bon Secours Health System and is committed to creating communities of health, hope and well-being.. For more information, visit scherviercares.org or its Facebook page for frequent updates at facebook.com/SchervierNursingCareCenter.
# # #