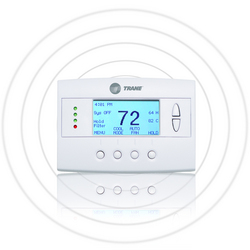 The thermostat offers a number of practical features that will help homeowners actively manage energy use to conserve gas and electric and reduce utility bills.
Carmel, IN (Vocus) June 10, 2009
Schlage®, the most trusted brand in door locks, today announced availability of the Trane Remote Energy Management Thermostat, which enables owners of the Schlage LiNK keypad lock/home-management system to remotely monitor and control home cooling and heating from any computer and most Web-enabled mobile phones, including Apple's iPhone and RIM's BlackBerry. Schlage and Trane are both brands of the diversified industrial company, Ingersoll Rand.
Available in select Lowe's stores and on Lowes.com, the Trane thermostat is the latest accessory for the Schlage LiNK System, which lets homeowners remotely lock/unlock and monitor entry to doors equipped with Schlage's wireless keypad locks as well as monitor and control Schlage network cameras and a variety of Z-Wave®-enabled devices, including Schlage light modules and the new thermostat.
"With the Trane Remote Energy Management Thermostat, owners of the Schlage LiNK System will now be able to conveniently monitor and control their cooling and heating systems even when they're away from home," said Dwight Gibson, General Manager, Intelligent Residential Electronics, for Ingersoll Rand, the parent company of Schlage. "The thermostat offers a number of practical features that will help homeowners actively manage energy use to conserve gas and electric and reduce utility bills."
Control the AC from Anywhere
How many times have you intended to turn down the AC before leaving home and forgot to do so, only to remember an hour later when you're out with the family enjoying a beautiful day? With the Trane Remote Energy Management Thermostat (model TZEMT400AB32) you can make that adjustment on the fly by accessing the Schlage LiNK portal from your Web-enabled cell phone. Or, if you're at the office and want to tweak the temperature at home, you can do if from your computer. You can even program the thermostat to send text or email alerts when adjustments are made to temperature settings--like if the kids come home from school and crank up the AC. Other features of the Trane thermostat include:

Programmable for seven days with up to four settings per day
Energy saving schedule that can reduce energy consumption up to 15% when compared with non-programmable thermostats (accessible on a cell phone or computer via the Schlage LiNK portal)
Ability to receive maintenance reminders via text or email
Energy Star compliant and FCC approved
Compatible with all brands of central heating, cooling and heat-pump systems
Powered by 24Vac from HVAC system
Graphical LCD screen with blue/white backlighting
Dimensions: 5.7 x 4 x 1.2 (w x h x d) inches
Retail price: $149
Schlage LiNK System: Convenience, Control and Peace of Mind
Schlage wireless deadbolts and locks eliminate the need to carry or circulate keys, allowing homeowners to enter a 4-digit code on the lock's keypad or grant access remotely via a computer or mobile phone (a data plan is necessary to access the password-protected Schlage LiNK Web and mobile interface). The Schlage LiNK System also lets homeowners:

Receive e-mail or text notifications when specific user codes are entered on the lock's keypad, providing peace of mind for working parents with latchkey kids
Set up temporary entry codes for day workers, such as a plumber
Access a 90-day log showing who accessed the lock at what times and on which days
The Schlage LiNK System Starter Kit includes one Schlage wireless deadbolt or lock, a Schlage Bridge, an Ethernet cable, necessary batteries and one Schlage Light Module. The Bridge connects to the home's existing router and uses Z-Wave wireless technology to transmit data to the wireless lock. Installing the Schlage LiNK System is a straightforward process that typically requires only a screwdriver and no additional wiring. Additional Schlage wireless deadbolts and locks are sold separately and finish options include bright brass, satin nickel and aged bronze.
Retail price of the Schlage LiNK Starter Kit is $299 and additional Schlage wireless deadbolts or locks are $199 each. There is also a $12.99 monthly subscription fee for 24-hour access to the Schlage LiNK online and mobile interfaces, which make it possible to remotely control a variety of Z-Wave devices.
Parents Like Schlage LiNK and See Value in 24-Hour Control
A national study conducted in April by Schlage found that nearly three-quarters of the 1,050 parents surveyed are interested in a door lock system that provides not only security but convenient monitoring and control of home devices from any location, 24 hours a day, seven days a week. Accustomed to subscriptions for convenience services such as Internet-enabled cell phones, premium TV channels with digital video recorders and DVD movie rentals, nearly half of the busy parents surveyed said they would be willing to pay at least $13 a month for the convenience of remote home control. The Schlage LiNK subscription delivers peace of mind and convenience for less than 50 cents a day.
The majority of survey participants also expressed a strong interest in being able to use a computer or cell phone to control temperature and lighting and to access a video camera to see what's going on at home.
Award-Winning Technology and Design
The Schlage LiNK System has received CE Pro magazine's 2009 Innovative Housing Technology Award in the Security and Safety category, Constructech magazine's Top New Products for 2009 Award, honoring the most innovative technology solutions developed for the homebuilding market, and Design Journal 's ADEX GOLD Award for design excellence. ADEX stands for Awards for Design Excellence and is the largest and most prestigious awards program for furniture, fixtures and finishes marketed to the design trade.
For more information about the Schlage LiNK System, the Trane Remote Energy Management Thermostat and other accessories, visit http://www.link.schlage.com. For details on how to purchase the system and accessories online, visit http://www.lowes.com/schlagelink.
About Schlage & Ingersoll Rand Security Technologies
Schlage® is the leader in security devices, trusted for more than 85 years, spanning both the commercial and residential markets. Commercial grade quality is built into every Schlage® product. The brand is on the forefront of developing cutting-edge technology and innovation such as wireless security products and biometrics, among others. http://www.schlage.com
Ingersoll Rand Security Technologies is a leading global provider of products and services that make environments safe, secure and productive. The sector's market-leading products include electronic and biometric access control systems; time and attendance and personal scheduling systems; mechanical locks and portable security, door closers and exit devices, steel doors and frames, architectural hardware and technologies and services for global security markets.
Ingersoll Rand Security Technologies is a sector of Ingersoll-Rand Company Limited, a global provider of products, services and solutions to industries as diverse as transportation, manufacturing, food retailing, construction and agriculture. http://www.ingersollrand.com
About Trane
Trane, a wholly owned subsidiary of Ingersoll Rand (NYSE: IR), provides systems and services that enhance the quality and comfort of air in homes and buildings around the world. Trane offers a broad range of energy-efficient heating, ventilation and air conditioning solutions. Its systems and services comprise dehumidifying and air cleaning products; aftermarket service and parts support; advanced building controls; and building and financing solutions, including those that allow energy-efficient systems to pay for themselves through energy savings. Trane's systems and services have leading positions in premium commercial, residential, institutional and industrial markets; a reputation for reliability, high quality and product innovation; and a powerful distribution network. The business has 35 plants in 10 countries and more than 29,000 employees worldwide. For more information, visit http://www.trane.com.
About Lowe's
With fiscal year 2008 sales of $48.2 billion, Lowe's Companies, Inc. is a FORTUNE® 50 company that serves approximately 14 million customers a week at more than 1,650 home improvement stores in the United States and Canada. Founded in 1946 and based in Mooresville, N.C., Lowe's is the second-largest home improvement retailer in the world. For more information, visit http://www.Lowes.com.
About Z-Wave
Z-Wave is an award-winning, proven and interoperable wireless mesh networking technology that allows a wide array of devices in and around the home to communicate, including lighting, appliances, HVAC, entertainment centers and security systems. Z-Wave brings many benefits to everyday life including remote home monitoring, home healthcare, safety and security, and energy conservation. Z-Wave certified products are currently available from leading consumer brands in more than 300 products. Z-Wave is the recipient of the Wall Street Journal Technology Innovation Award in the wireless category, the CNET "Best of CES Award" in the enabling technologies category, along with PC World's World Class Award. For more information about Z-Wave, please visit http://www.z-wave.com.
Contact:
GLA Communications
Bob Ankosko
732-651-2385
Dave Arland
317-701-0084
###