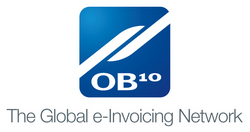 OB10 has proven to be a valuable partner in helping us transform our Accounts Payable processes to ensure we have greater efficiency while capturing real cost savings in a way that positively impacts our bottom line
Atlanta, GA (PRWEB) February 9, 2010
Schneider Electric, the global specialist in energy management, has reached an agreement with OB10, the leading global e-Invoicing network, to expand its industry-leading electronic invoicing solution to all regions of its global operations. After a successful rollout of its e-Invoicing solution in North America 18 months ago, Schneider Electric will now bring the benefits of reduced operational costs, increased productivity, improved cash management and enhanced compliance to its worldwide organization.
"OB10 has proven to be a valuable partner in helping us transform our Accounts Payable processes to ensure we have greater efficiency while capturing real cost savings in a way that positively impacts our bottom line," said Tony Bylak, Vice President, Americas Shared Services, Schneider Electric. "With the enormous success of transitioning our manually-driven invoice receipt processes to electronic in North America and the extensive global capabilities of OB10, we believed it was time to expand our relationship."
In addition to the existing North American operation, the new global agreement will see the implementation of OB10 in Schneider Electric's Accounts Payable operation across Europe, the Middle East and Asia Pacific - helping the company to achieve 100 percent paperless status worldwide. With service centers in North America, Europe and Asia Pacific, as well as multilingual support, OB10 provides Schneider Electric with unrivaled expertise in globalizing their e-Invoicing efforts. Furthermore, Schneider Electric benefits from the fact that OB10 already ensures compliance with tax and regulatory requirements across multiple regions.
The OB10 e-Invoicing solution being rolled out to Schneider Electric worldwide is a comprehensive offering that includes PO Validation - rules-based validation rooted in specific Schneider Electric requirements designed to significantly reduce exception handling of incoming invoices; Payment Status - allowing suppliers to view the status of their payment via the OB10 portal; PO Flip - a solution that allows lower volume Schneider Electric suppliers to log into the OB10 web portal and quickly flip PO's into invoices, further reducing the chance for errors and increasing efficiency; and Remittance Advice Delivery - enabling electronic payment to suppliers.
"The opportunity to expand OB10's e-Invoicing solution across Schneider Electric's global operation speaks volumes in terms of the relationship established between our two companies and the level of trust they have in us," said Jamie Gunn, Chief Executive Officer, OB10. "Schneider Electric's globalization of the OB10 e-Invoicing solution ideally suits what we do best - assist organizations with streamlining their Accounts Payable processes in multiple parts of the world where myriad issues and challenges are at hand. We are excited about the opportunity to bring the same level of commitment and success to Schneider Electric's global operation that we've demonstrated in North America.
About OB10
OB10 (http://www.OB10.com) is the leading global B2B e-Invoicing network. OB10 simplifies and streamlines the complex invoice-to-pay processes. Neither client organizations nor their suppliers are required to implement any hardware or software, and OB10 is independent of data file formats. OB10 can reduce the cost of paper invoice processing by typically 60 percent and can deliver an ROI in less than a year if the program follows OB10's best practice guidelines. Operational across Europe, North America and Asia, OB10 is compliant with the requirements of VAT, tax and e-Invoicing legislation and receives invoices from suppliers in over 100 countries. To ensure unrivalled and rapid supplier enrollment, each new customer's suppliers are supported by an implementation services team responsible for getting them up and running on the OB10 network.
Customers include: Agilent Technologies, Aviva, Barclays, BP, Cargill, Deutsche Lufthansa AG, DHL, DSG International, Eli Lilly & Company, East Riding of Yorkshire, Fisher Scientific, General Motors, GlaxoSmithKline, Hewlett Packard, Hertz, IBM, Imperial College, Kellogg's, Kraft, Logica, Mohawk Industries, Motorola, Pfizer, SaraLee, Schneider Electric, Shaw Industries, Steria, Tesco, Unilever, US Federal Government and VWR International.
###