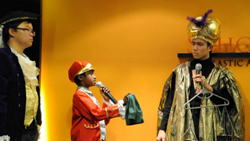 PIES – physical, intellectual, emotional and social development is more effective in an environment where literacy and arts are combined.
Kuala Lumpur, Malaysia (PRWEB) May 07, 2014
Child enrichment centre, Scholar Base, introduces a new holistic approach to learning through a combination of arts and literacy in order to address the shortcomings of mainstream education systems. Scholar Base's programmes encourage children to become involved in the stories they are reading through performance, thus giving them a richer understanding and sense of enjoyment as they learn – more information is available at http://scholar-base.com/using-art-and-literacy-in-education/.
According to the National Art Education Association (NAEA), a comprehensive arts education gives students essential skills for improved intellectual, emotional, physical and social development. However, schools today often neglect the arts due to traditional educational hierarchies, which place a much stronger emphasis on subjects such as mathematics and language.
Scholar Base's programme director, Poh Lee, explains that this is a fundamental mistake, saying:
"Mainstream education systems teach language through grammar and rote memorisation. But, this generation of children are more active, demand faster responses and constant engagement." She continued:
"By combining arts and literacy to involve children in stories through performance, they not only get more enjoyment from their lessons, but they also develop invaluable skills like confidence, public speaking and teamwork."
Scholar Base's approach to education incorporates story telling, acting and drama into lessons. Children at the centre are involved in stage acting and performances of classic stories including The Merchant of Venice, The Mask of Zorro and The Last of the Mohicans. As children act, they wear costumes and gain a deeper and more personal understanding of the story by immersing themselves in the characters and time period of the books.
When asked about Scholar Base's new holistic approach, William Chin, director, commented:
"Scholar Base's educational environment combines literacy and arts to promote effective physical, intellectual, emotional and social (PIES) development."
Mr. Chin concluded the interview by announcing a story-telling competition to be held at Scholar Base this week across all levels, giving Scholar Base students the opportunity to develop confidence while engaging in competition with their peers.
For more information, visit the Scholar Base website at: http://scholar-base.com/using-grammar-to-teach-english/.
About Scholar Base:
Founded in Malaysia in 2005, Scholar Base takes a holistic approach to learning, offering children supplementary English Literature education with an emphasis on the creative side of literacy.
Scholar Base's teachers use a range of faculties to ensure that children enjoy learning and developing reading, writing and thinking skills. Now with three chapters, Scholar Base is gaining reputation in Kuala Lumpur as an enrichment centre, which develops skills in children for long-term academic success.
More information can be found at http://www.scholar-base.com.