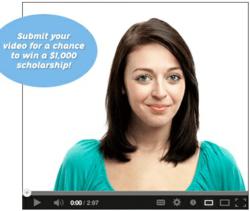 Good luck to all the applicants! Hopefully, you'll have some fun.
Fulton, MD (PRWEB) April 30, 2013
Whether one's going into nursing or dentistry, medical school is expensive. That's why JustHomeMedical.com started the $1,000 Health Care Leaders Scholarship. The scholarship is open to any student studying to work in the health care industry and will awarded at the start of the new year.
"Just Home Medical has grown tremendously and continues to grow," said company CEO and licensed pharmacist Bryan Mercer. "It's time we gave back a little. A scholarship seemed like a good way to do that, while also increasing our brand awareness."
Unlike most scholarships, the Health Care Leaders Scholarship doesn't require any long application forms or essays. Instead, applicants create a short video answering the question, "What are your long and short term goals as a future health care leader?" Videos will then be emailed to the judges panel along with the student's name, school year, and what health program they are/will be attending. The videos will be judged on creativity and thoughtfulness in responding to the prompt.
The scholarship is open to those studying to be a doctor, nurse, pharmacist, physical therapist, dentist, medical technician or anyone else in health care. Those who aren't sure if their major qualifies are encouraged to email JustHomeMedical.com. The deadline for the application is December 31, 2013 and the winner will be announced on January 31. The winner must be enrolled in an accredited US health care program by Spring 2014.
"We're looking forward to receiving the videos and seeing what students come up with," said Mercer. "So good luck to all the applicants! Hopefully, you'll have some fun."
About JustHomeMedical.com
Just Home Medical provides a wide range of home medical supplies and equipment to help families maintain a healthy lifestyle. They offer both convenience and selection with thousands of products to choose from that can be delivered right to your home. Their user reviews, product videos, detailed descriptions and variety of search options makes it easy to find the products best suited for you. JustHomeMedical.com is proud to serve the millions of families who seek practical solutions to everyday medical problems and want the best products at the lowest prices.