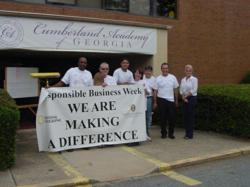 We are so grateful to Intercontinental Hotel for its dedication in serving their community partners
Atlanta, GA (PRWEB) October 02, 2012
Cumberland Academy of Georgia, Inc., a SACS-CASI accredited, private, non-profit, independent school for children with ADHD, ADD, high functioning Autism, Asperger's and learning disabilities, received a special day of service from employees of Intercontinental Buckhead Atlanta. On the morning of Thursday, September 20, 2012, eight employees of the hotel arrived at the school ready to assist in various improvement projects throughout the building. Employees arrived in shifts throughout the day, cleaning storage rooms, moving furniture, repairing and rerouting electrical lines, and planting flowers. "We are so grateful to Intercontinental Hotel for its dedication in serving their community partners," said Ms. Debbi Scarborough, Founder and Headmaster of Cumberland Academy of Georgia. "Thank you for making a difference, Intercontinental Buckhead Atlanta!"
There are so many incredible opportunities for students to learn, experience, and thrive at Cumberland Academy of Georgia. The Atlanta school provides a tailored learning experience for students with Asperger's Syndrome, high functioning Autism, learning disabilities, ADD and ADHD. With a low student-to-teacher ratio, Cumberland Academy of Georgia is designed for the needs of many students who do not learn well in traditional settings. Cumberland Academy of Georgia is fully accredited and addresses the student's academic, emotional and social concerns through nurturing, innovative and challenging programs. The ultimate goal is for students to become independent, successful young adults. To reach this goal, students are taught to demonstrate appropriate interpersonal skills as they learn essential life and social skills in various settings.
Cumberland Academy of Georgia is growing! To schedule a private tour of the school, please contact Terri Brooks, Director of Admissions at 404-835-9000 or email admissions(at)cumberlandacademy(dot)org. Cumberland Academy of Georgia offers rolling admissions and is currently accepting applications for grades 4 - 12, as well as a postgraduate year. To learn more, please visit the website.
Cumberland Academy of Georgia welcomes families to tour the campus and meet the wonderful faculty and staff. The next upcoming Open House is scheduled for Sunday, October 28, 2012 from 2pm – 4pm at 650 Mt. Vernon Hwy NE, Atlanta, GA 30328.