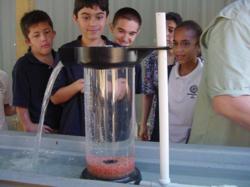 It is fun to take care of the fish and then see them swim away when we put them back in the river.
Atlanta, GA (PRWEB) October 09, 2012
Today, Cumberland Academy of Georgia, Inc.,a SACS-CASI accredited, private, non-profit independent school dedicated to students with special needs, received 1,100 trout eggs for its on-campus Labitat. After an introductory lesson by Tom Schmeltzer of Small Fry to Go, students and teachers began the process of nurturing the smaller-than-a-pea size eggs to reach two-inch-long fingerling size. The approximate six-week course, which includes hands-on practice as well as a student workbook and study guide, culminates with students releasing the trout back into the environment during their annual trek to the Chattahoochee River.
"This is awesome," exclaimed Norman Jetmundsen, a 7th grader at Cumberland Academy of Georgia. "Last year I helped clean the tank and check the pH balance. It is fun to take care of the fish and then see them swim away when we put them back in the river."
The Labitat program provides an excellent opportunity for students to learn not only about raising fish, but also about the importance of preserving habitats, conserving water, and maintaining a clean water supply. As the students work together and rely on one another to accomplish specific tasks, they develop critical communication and teamwork skills, as well as hold responsibility for their area of expertise. The Labitat is a 146 gallon, 6 foot climate-controlled and UV sterilized mini hatchery. The program is cross-curricular and teaches various subject areas, including science, math, reading, social studies, health education, character education, and career education.
There are so many incredible opportunities for students to learn, experience, and thrive at Cumberland Academy of Georgia. The school provides a tailored learning experience for students with Asperger's Syndrome, High Functioning Autism, Learning Disabilities, and ADD/ADHD. With a low student-to-teacher ratio, Cumberland Academy of Georgia is designed for the needs of many students who do not learn well in traditional settings.
Cumberland Academy of Georgia is fully accredited and addresses the student's academic, emotional, and social concerns through nurturing, innovative, and challenging programs. The ultimate goal is for students to become independent, successful young adults. To reach this goal, students are taught to demonstrate appropriate interpersonal skills while working collaboratively in groups.
The school offers rolling admissions and is currently accepting applications for grades 4 through 12. To schedule a private tour of the school, please contact Terri Brooks, Director of Admissions at 404-835-9000 or email admissions@cumberlandacademy.org. To learn more, please visit the web site at cumberlandacademy.org. The next upcoming Open House is scheduled for Sunday, October 28, 2012 from 2pm – 4pm. Private tours are available Monday - Friday.