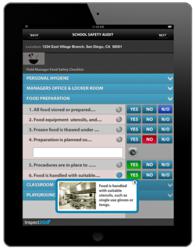 School Inspection on iPad can Improve Safety and Lower Maintenance Costs
Los Angeles, CA (PRWEB) December 12, 2011
Inspect2GO (http://www.inspect2go.com/school) has developed mobile applications for use in school inspection and school district administration. The product line includes kitchen/cafeteria food safety checklists, facility inspection forms, vehicle, playground and safety audit apps.
The food services checklist apps and forms are designed for school kitchen/cafeteria self-audits. These apps are used for food prep inspection, personal hygiene inspection, kitchen/equipment cleanliness, food storage, etc. Field supervisors are able to inspect many schools in a district. Food service directors are able to view and compare data and inspection reports across school districts. The applications are customized by Inspect2GO to meet the unique needs of each district or university. Inspection applications are available on iPad, iPhone and Android tablets.
Other school applications include workplace safety, facilities/building inspection, vehicle/bus inspection, and playground safety checklists. Facility inspection apps include gas, HVAC, interior, structural, fire pest and roof sections. The applications can be custom designed around the existing inspection worksheet and forms of each school district. The apps include image capture, on screen marking, signature, checklist, hosted data storage, reporting and long term trending functions. These apps are also available on iPad, iPhone and Android tablets.
School Food Safety iPad Checklist Subsections

Personal Hygiene (employees, restrooms…)
Managers Office
Food Preparation
Fold Holding Units
Serving Lines
Walk-ins
Dry Storage
Sinks and Dishwashing Machines
Kitchen and Equipment
Chemicals and Laundry
Food Storage and Dry Storage
Inspect2GO also offers custom mobile application development specifically for school districts. The applications cover a range of food/workplace safety and some management functions for school administrators. Example applications follow:
Customized iPad/Android Checklists for Schools

Food safety inspection forms related to USDA guidelines
Internal controls and process monitoring on iPad/Android
School/Child nutrition program (menus, reimbursable meals, sanitation, SOPs)
District vehicle and private vehicle inspection form/checklist apps
General school safety inspection iPad apps
Ergonomic workstation evaluation checklist tablet applications
Aerial lift and boom lift inspection forms
HACCP iPad applications
Workplace safety inspection self-audit forms for iPad/Android
Database storage and PDF inspection reports
Apps are also under development specifically for California school facilities inspection. Specific topics include gas leak, HVAC/mechanical system, interior, hazardous materials, structural damages, fire safety, electrical, pest, restroom, sewer, roof and playground/school ground inspection checklist applications.
About Inspect2Go
Inspect2Go is a mobile application development company based in Southern California. The firm's technology includes inspection checklist mobile apps with signature, photo, markup, custom reporting, pdf email and database functions. The checklist apps are compatible with Apple iOS (iPhone, iPad) and Android.
See http://www.inspect2go.com/school
###