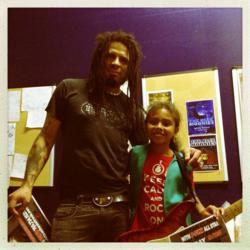 Working with Tagless Threads was what I wish working with every vendor my company uses was like. Casual orderly store front, friendly people who know their product and how it impacts the world around them, sales people who anticipate their customers needs
San Diego, California (PRWEB) October 31, 2012
Tagless Threads chooses School of Rock to be featured in their Client Spotlight Series for the month of October.
"This month's Client Spotlight features School of Rock. Far from your average music school, School of Rock takes a hands on approach with their students. The organization believes that taking the kids from the music lesson room to the stage helps with confidence and self esteem. They believe in an authentic experience using professional equipment, a staff of seasoned musicians, and performances on real rock stages, at real rock venues in front of real live audiences. Our team has had the opportunity to sit and talk with Adam Mackintosh of the School of Rock in Vista to learn about the school. We watched videos and asked a lot of questions. We are over-the-moon excited to be working with such an impressive organization and to have them on board as a loyal client. This school has locations across the US to make it easy for kids of all ages to join. The interactive approach that this music school takes is sure to keep kids striving for success with something they can be proud of. School of Rock will help each kid form into the person they are meant to be and shape their future into what it is meant to be." -Alissa Samperio//Co-Founder//Tagless Threads
Choosing The School of Rock for Client Spotlight of the Month was a no-brainer for Tagless Threads. Since starting the Client Spotlight Series they have never failed to showcase truly worthy organizations. The School of Rock is a Music School for kids of all ages and has locations all over the US. In particular, the School of Rock from Vista, CA is the school chosen to be highlighted this month. This organization is a no nonsense, sure-fire way to keep kids interested in a positive goal through the teachings of their instructors.
"Working with Tagless Threads was what I wish working with every vendor my company uses was like. Casual orderly store front, friendly people who know their product and how it impacts the world around them, sales people who anticipate their customers needs and inform them on how to get the most mileage for their budget. Snappy ordering process with granular detail...Glad I found this company and excited to create more cool things with them." -Adam Mackintosh//School of Rock
The School of Rock has a performance-based teaching method which aids in their goal of inspiring students to be and do their best. The School of Rock believes that getting the students on the stage and letting them go in head first will allow them to have a desire to learn the theory of music from a genuine place of interest. The School of Rock uses real equipment and instruments and they play at real rock venues to live audiences. Like any rock show, tickets are purchased and fun is had by all.
"Our instructors live to play and play to live. They are experienced professional musicians that can instruct students on the finer points of their instrument, while at the same time educating them on everything that goes into putting on a great live show." -School of Rock
If you are located in or near any of the cities where School of Rock is hosting a performance please make sure and check it out.