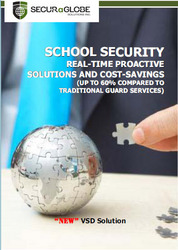 VSD presents a more practical solution to the rising concern of safety in schools
Phoenix, AZ (PRWEB) October 22, 2009
SECURaGLOBE, an innovative security solutions services company, is pleased to offer an expanded, proactive, real-time school security solution with VSD®, Virtual Security Director. VSD provides schools with an advanced environment of safety and a reduction of up to 60% in costs when compared with traditional guard services.
"VSD presents a more practical solution to the rising concern of safety in schools," said Rene Beaulieu CPP, President of SECURaGLOBE Solutions, Inc. "Through a combination of certified experts and a variety of security applications, we may deter harmful actions like bullying, drug- and weapon-related activities, vandalism and destruction of property with a very cost effective school security solution."
VSD is an arrangement of Certified Experts using SECURaLINE, SECURaCASE and SECURaVIEW that allows school administrators to report, track and manage all cases of incidents at schools as well as monitor, alert and capture court quality evidence and video.
SECURaLINE offers a 24/7/365 incident reporting capability both via a dedicated 800 hotline and through an internet portal. Interview specialists manage the life cycle of information, while school boards maintain caller/subscriber anonymity and effectively comply with possible legislative requirements. District-wide services enable all matters related to security to be uniformly operated with maximum efficiency.
SECURaCASE provides School Boards "End-to-End" incident management including, flexible access for control, Workflow Libraries reflecting any particular school's policies and procedures, case log for detailed audit trail, ongoing dialogue with anonymous reporters, and the ability to review and analyze trends.
SECURaVIEW powered by Iveda Solutions is an innovative real time internet video surveillance system, that is managed and maintained through internet enabled cameras and recording resources from a remote location.
As the "Virtual Security Director" (VSD) of a school, SECURaGLOBE provides a cost-effective school security solution that will significantly increase security in schools of all sizes across North America.
For more information about SECURaGLOBE's school security solution and VSD, visit SECURaGLOBE.com.
About SECURaGLOBE Solutions, Inc.
SECURaGLOBE Solutions, Inc. is an innovative security solutions services company with headquarters in the United States and Canada. Established in 2001, SECURaGLOBE has provided security solutions to businesses, law firms, celebrities and government agencies all over North America.
Today, SECURaGLOBE employs Certified Protection Professionals who cover the entire security spectrum from investigations, labor contingency, guarding, fraud, forensics and training to electronic security measures. Our security solutions will help reduce your organization's risk vulnerability and lower costs by assessing and evaluating your security needs through contingency planning and rapid recovery of potential losses.
# # #